How Pissed Were You About Last Night's 'How I Met Your Mother'?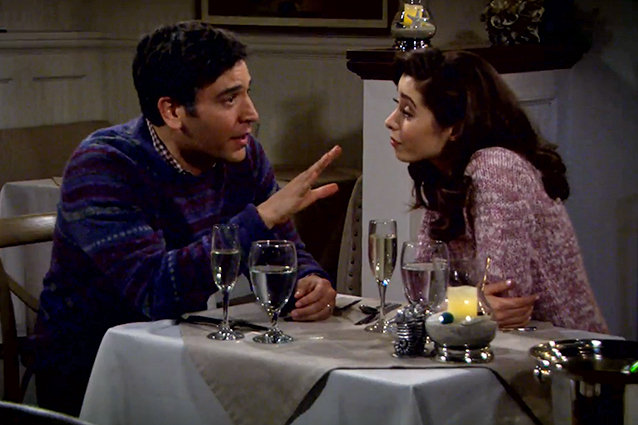 CBS
If you haven't seen this week's How I Met Your Mother episode "Vesuvius," turn back now… the ep, and as such this post, contains what is likely the biggest spoiler in How I Met Your Mother history (which places it somewhere around the area of Kristin shot J.R./The hospital is in a snowglobe/The numbers meant nothing).
A quick summary…
By the time we hit 2030 and meet a long-winded Future Ted recounting his youthful forays to two closed-mouth Mosbiettes, the woman we spent eight years waiting to meet and one season getting to know will be dead. This was all but confirmed outright in this week's episode "Vesuvius," in which the usual framing device shifts to a matted-haired Josh Radnor chatting with Cristin Milioti at the Northampton hotel where they met many years prior.
The reveal — which, we might note, was suggested by series creators Carter Bays and Craig Thomas, who insisted that the series finale would be "heartbreaking" —  is peppered gradually throughout the episode, hinted at when The Mother insists that she doesn't want Ted to "live in his stories," and emboldened when Ted breaks into tears over the thought of a mother not being around for her daughter's wedding day. By the end of the episode, it was terrifically clear that Milioti's character would not be long for this world. That Ted spent more time chasing the woman of his dreams than he might end up getting to spend with her.
Reactions took the form of rage, sorrow, and your series-appropriate skepticism. Each side is at once differently valid and uniquely psychotic, and we wouldn't be a complete fan base were not for all components. So here's what sprung from the id-heavy minds of the HIMYM loving (and hate-watching) community last night.
Anger
"She's dead?! The mother is dead?!? What the f**k?!?"
Nine seasons spent waiting to finally meet this lady, to watch her yank Ted out of his lifelong melancholy for an ultimately happy and loving life. To institute the idea that true love is not something that makes you feel sick and lonely (re: Ted's feelings for Robin) but whole. We waded through the Scherbatsky-induced misery, holding fast to the idea that one day Ted would meet someone who puts this whole ordeal to shame, who exhibits his relationship with (or, more accurately, "at") Robin for what it is — toxic, immature, and not the best that he can do.
And now, all that has gone to s**t. Mother dies. Ted's alone again, nursing his wounds with meaningless distractions like stories and his children.
But wait, brief hope: does this mean he can end up with Robin? That after the death of Milioti, Ted rekindles things with Ms. Scherbatsky (free of Barney for some inevitable reason) and spends his life with the love that he always knew to be his one and only? … No, that's dumb and ridiculous. He's probably going to be alone. Or, as foreshadowed by Miloti's own brush with loss, forced to trek out again to find happiness once more. 
On the side of this troupe is Alan Sepinwall, all but retired from HIMYM recaps, who felt it necessary to take to the web to pronounce his impassioned distaste for this choice. A great husk of Twitter echoed his sentiments. After investing so much time in a comedy series that, while impressive in its subversion of "traditional love" in the past few weeks still promised a "happy ending," we get this. Nothing shy of betrayal.
Sadness
"She's… she's dead? The m-mother is… dead? Oh… my God…"
We hadn't seen this coming, despite warnings from Bays and Thomas. We didn't want to believe it. We wanted Ted to be… happy. This isn't quite what we had expected.
But, in earnest, it's a touch of beauty. It's hurtful, jarring, and mean. But it sure is doing its job: making us well up. 
See, it actually kind of makes sense. Ted's whole story is about putting one love behind him to find another. To find someone who can make him happy now, in real life and real time, rather than relying on fantasies and memories… and stories, as Milioti puts it ever so warmly. His quest to overcome Robin is really just a precursor to his quest circa 2030, to overcome the loss of The Mother and again set out to find happiness, and bring this happiness to his children.
It might be tough, but it works. And it's going to drum up some tears… but that's what a good series finale does.
Skepticism
"Psh. She's not dead."
We've seen this before, How I Met Your Mother. You make it REALLY OBVIOUS that something is going to happen, and then BAM. The other thing happens. Well, not this time. She ain't dyin'. There's no way you'd be crazy enough to end your CBS comedy series on such a bleak note. Maybe she's sick now, but gets better. Maybe the vague hints at death were in reference to someone else (hey, maybe Robin's dead, or something … somehow, that doesn't bum us out as much, and we like Robin!). There are plenty of possibilities here. But The Mother dying ain't one of 'em.
So which camp do you lie in?