How Nicki Minaj Vs. Mariah Carey Could Change 'Idol' Forever — UPDATE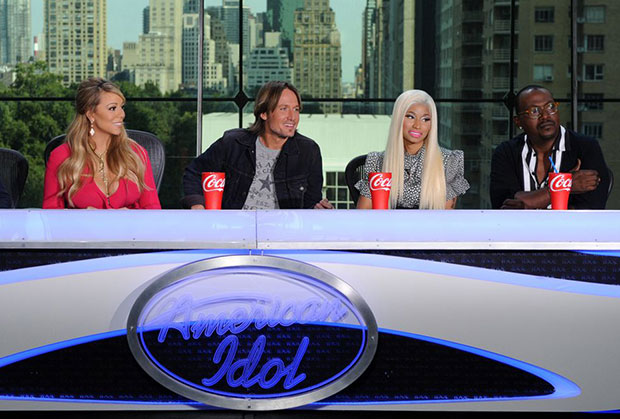 UPDATE: American Idol producers have responded to chatter surrounding Nicki Minaj and Mariah Carey's fight. According to a statement to The Hollywood Reporter, the series' producers said: "This is one of the best, most passionate, dynamic and invested judging panels we've ever had … We love and support all of the judges and the fantastic work they are doing, and we can't imagine a better group to find the next American Idol." 
EARLIER: 
Well, it's not over. In fact, this
American Idol
"feud" between
Nicki Minaj and Mariah Carey
is clearly just getting started. Great. Just great.
While the Internet is gobbling up every piece of debris breaking off from this whirling Idol tornado (unfortunately, myself included), the series itself is dangerously close to losing what's left of its identity. If this nonsense between the two diva judges continues, Idol may steer into becoming a documentary-style reality show parading as a talent competition – a fate it's been teetering on since Season 9 when the celebrity judge trend had its first shaky start.
Unfortunately, there's no sign of the fight reaching a cooling point anytime in the near future. After the video of the verbal fight between Minaj and Carey went live, publicizing the rapper's commentary which included jabs at Mariah such as "…if you say one more disrespectful thing to me — off with your head!" while Carey simply asked "Why?" and compared Minaj to a young child.
Then things escalated even further when Barbara Walters revealed on The View that Carey shared some tales from backstage with her. "She said that when Nicki walked off the set, multiple people heard Nicki say, 'If I had a gun I would shoot the bitch,'" says Walters. According to Walters, Carey says she doesn't actually think the threats are real, but that she's beefing up security around herself and her twins just in case. And the icing on the cake? Carey says Minaj told her, "I love you, but we may fight again." And Carey responded, "No. We will not."

And that could have been the end of it. But, unfortunately, it wasn't. Without her own veteran journalist on a morning talk show as a friend, Minaj took to Twitter to retaliate against Carey for airing the remnants of their on-set fight. Hey yAll. Lets just say nicki said smthn about a gun. ppl will believe it cuz she's a black rapper. Lmao. I'll then hit up Barbara n milk it
Ironically no camera or mic heard the gun comment tho. Lol @ the struggle. Not even the producers believed u. Say no to violence barbz.
I don't call tmz n Barbara Walters cuz I stand on my own two feet. Never needed an army. God is good. Insecurity is as cruel as the grave.
I guess it hurts 2 have the producers tell u to ur face that nicki is the best judge we've had since simon. Awww, poor u. Keep them lies cmnAlready, this back and forth feels strange and foreign for Idol fans. The series has long promoted a little aggressive discussion between the judges, but it always had an air of playfulness to it. And as we can see by Minaj's tone and by fellow judge and crossfire victim Keith Urban's confused and concerned countenance, this is not a little game. These women were actually fighting. So meanly that it's bleeding into other forms of media. It's either real, or it's a very elaborate publicity stunt. Either way, it's bound to change Idol drastically should the series choose to air it.
While the feel of this brawl has all the class and maturity of a Real Housewives or even a Jersey Shore reunion, the series it resembles most might be the CW's America's Next Top Model. The Tyra Banks reality competition started as a series about finding and mining talented models who'd yet to unlock their potential. The women living in the model house inevitably fought with each other – they were exhausted and crammed into one giant penthouse. It was bound to happen. But at the end of each season, we were still handed a winner who might actually be able to model and make a decent living at it. That was the goal. And such was Idol's goal when it first started.
The original purpose of American Idol was to find the next Kelly Clarkson. And to some extent, it's worked. We've got Clarkson, Jordin Sparks, Carrie Underwood, and even Season 11's Phillip Phillips still charting thanks to his single "Home" running in the background of every NBC London Olympics promo. Compared to both The Voice and The X Factor (in the U.S.), neither of which have produced a successful winner in their short runs, Idol has a pretty good record for spotlighting talent.
In the case of ANTM, that went straight out the window in Cycle 4 when contestant Tiffany Richardson spent the entire season working Tyra into a tizzy. Finally, when Banks reached her limit, she brought Tiffany onto the ANTM chopping block as one of the final two, and after trying to reprimand her for her flippant attitude in a landscape of models working their hardest, Richardson talked back and set Banks off on the outburst heard 'round the pop culture universe. When Banks lost her cool and yelled, with tears in her eyes, "Stop it. We were all rooting for you … how dare you?" there was no smizing. It was a turning point. The show always had girl fights, but they provided colorful context and never were the central draw. In one fell swoop, ANTM became an epicenter of over-the-top drama, with a competition on the side. We still tuned in – how could we not, when people like baddie Jade Cole in Cycle 6 made it so fun to hate-watch? But the show quickly lost whatever credibility it claimed to have and tiptoed over to the Rock of Love, Real Housewives, Bad Girls Club side of Reality Television.
This fight between Minaj and Carey does beg comparisons to Idol's Tyra outburst. It's a moment in which the show sheds it family-friendly coating (something it has been working to promote for years, especially in Seasons 10 and 11), and steps over the line into shock-value reality TV. And as much as Idol is already guilty of being past its prime, it was still the one musical talent show on television that seemed to actually be rife with talent. It is the one show that actually has the ability to make a star out of a former pawn shop employee. Perhaps that's why even though the star power of The Voice is raking in record numbers for NBC, Idol's declining ratings were still higher, reaching 21.49 million viewers during the Season 11 finale – without a helpful lead-in from one of the most-watched Super Bowls ever like The Voice enjoyed in its record-breaking Season 2 premiere.
But the fight may bring in record viewers for Idol. But while the numbers may initially "beat out" the series' competitors, the success will be at the cost of the series' identity as a place where the talent is what matters, not the judges' individual gripes and issues. Instead, we could find ourselves watching an episode of Real Overprivileged Women of The Reality-Resistant Music Industry: The Reckoning.
<a href="http://polldaddy.com/poll/6586129/">Will this fight change 'American Idol'?</a>
Follow Kelsea on Twitter @KelseaStahler
[Photo Credit: FOX]
More:
'Idol' Audition Fight Leaks: Why We Hope It Stays Behind-the-Scenes
First Pic of 'American Idol' Judges All Together
'Idol' Judges Announced: Nicki Minaj, Keith Urban, and Randy Jackson Join Mariah Carey