How 'Real Housewives of Miami' Became the Best of the Franchise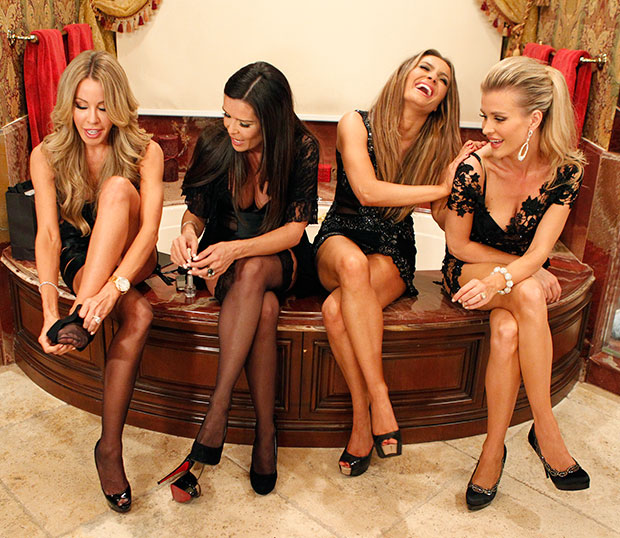 When The Real Housewives of Miami debuted early last year, I was skeptical. It was the seventh iteration of a franchise showing its strain. It wasn't originally planned as a Real Housewives and was being retrofitted for Bravo. And it came after the disastrously boring Real Housewives of D.C. a chapter marked more for the White House party-crasher scandal than anything exciting on the tube. After watching it, my fears were confirmed. While there were definitely some interesting characters, the action was a slog. When Bravo renewed the show, I rolled my eyes. Why would they want to pour even more money into a dud?
Well, as usual, Bravo proved me wrong. The show's second season has come roaring back to life with just as much drama, pathos, and bats***tery as any of the other vaunted editions of the show that have existed for much longer. (It still might not be better than my beloved Real Housewives of Beverly Hills, but it's getting close.) Did you even see the fight between Adriana and Joanna at Lisa's lingerie party in last night's episode? That there is even a sentence like that to type is a testament to the show's success in reshaping its destiny. What is curious is that this comes right on the heels of a revamp of the Real Housewives of New York which wasn't nearly as successful.
Here are a few reasons why I think rejiggering Miami worked, whereas futzing with New York was a bit of a wash.
Add, Don't Subract: Other than Cristy and Larsa, who both moved away, all the girls from the original Miami cast are back again. This gives the people that we already know and love ways to interact with new people and different ways to interact with each other. This seems like the best way to revive a show. New York fired a bunch of long-standing housewives (including Jill Zarin, Alex McCord, and Kelly Bensimon) and hired new ones which, yes, gave the three remaining Housewives new people to interact with, but it put too much of the burden on the new girls to bring the excitement and not enough on our old standbys. Also, Miami, the largest cast of any of the shows, proves that having more women can cause more controversy.
Hire an Entourage: When New York cast Aviva, Carole, and Heather, they pretty much just got the ladies. Well, Aviva did bring along her nymphomaniac retiree father George and he was one of the highlights of the season. Miami has really capitalized on the secondary characters this year. Not only did lingerie model and Dancing With the Stars alum Joanna Krupa join the show, she brought her sad, crazy sister Marta (who slept with Girls Gone Wild impresario Joe Francis), and her hot tempered boyfriend Romaine along with her. Lea Black stepped up and got her drag queen friend Elaine Lancaster to stir up plenty of trouble. Karent brings along her Telenovela actor boyfriend Rudolpho. Let's not forget the continued existence of Marysol on the show is probably because she comes with her lovable mother Elsa. These shows aren't just casting individuals, but the partners, friends, loved ones, and other hangers on that come with them. Remembering that has helped Miami launch into crazytown.
Go Legit, Stay Trashy: Joanna Krupa is by far the big "get" of season two. Thanks to her other reality show stint, she had a bit of notoriety coming into the season, something that seems to be a qualification for new Housewives. New York looked for high profile people, but forgot that we're not watching someone's résumé on TV every week. We need all the personality that goes along with it. That is why Krupa is the full package. Yes, we know her name, but the action surrounding her relationship and her family has been a treasure trove of dysfunction for Housewives fans to pick apart. And let's not forget her temper, her penchant for being a mean drunk, and those glorious boobs that she so often puts on display. She might be a big name, but she's right down there in the muck with everyone else.
Follow the Crazy: The best New York recasting was Aviva, because, well, she was obviously crazy. She tried to hold it in like it was some big secret, but by the end of the season all her phobias were out, all her indignations cataloged, and her absolute kookery was totally on display. It's a good idea to always follow the crazy. Whoever found these new ladies for Miami has a better nose for nuts than the Planter's logo, because all of them have a serious case of psychosis. Not only do we have Joanna and her messed up family, but let's not forget about Ana, a woman who is separated from her husband for years but won't divorce him even though they're each dating other people. That's bonkers. And we can't even get into Karent, a woman who is so insane that she has a parasitic "T" living on the end of her name and won't do anything about it. Any reality show is made on its casting, and when it comes to Real Housewives, the closer they are to needing a straightjacket, the better.
[Photo Credit: Bravo]
More:
'Real Housewives of Miami' Returns Better and Badder Than Ever
'Real Housewives Of Miami' Shake Up For Season 2?
2012 Emmy Longshots: Great American Tragedy 'Real Housewives of Beverly Hills'
From Our Partners:

Tom Cruise's $50m Defamation Suit Over Suri Abandonment Claim: What Are His Chances of Winning? (INSIDE STORY)
(Celebuzz)

Levi Johnston Marries Sunny Ogelsby in Alaska
(Celebuzz)