How 'The Daily Show' and 'The Colbert Report' Handled the Presidential Town Hall Debate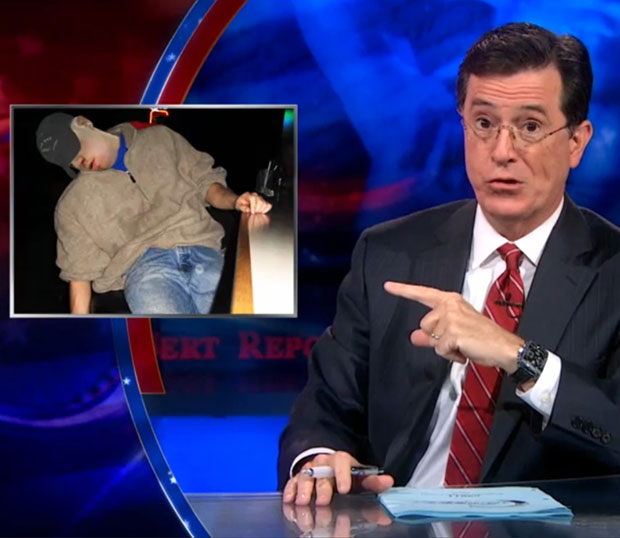 Barack Obama supporters and Mitt Romney supporters probably don't agree on much these days, but it's a pretty safe assumption we can all agree on one thing: We're all just ready for this thing to be over and done with. That, and we wish those undecided voters (let's called them Undecidies, you know, like Tailies on Lost) would make up their minds already. Thankfully, the Internet and its many memes and, as always, The Daily Show and The Colbert Report, have made this whole thing tolerable. 
While
the second Presidential Debate
, the Town Hall meeting held at Hofstra University on Tuesday night, was littered with moments of unintentional comedy (binders…full of
women
?) and heated rhetoric, on Wednesday night
The Daily Show
and
The Colbert Report
were chock full of
intentional
comedy and, yes, some heated rhetoric of their own. 
Over on The Daily Show, Stewart crowned a suddenly revitalized Obama as the winner of the second debate, from his comeback to Governor Romney's false claims that the President didn't immediately call the Benghazi attack on U.S. diplomats "an act of terror" to capitalizing on Romney's missteps, including that Twitter-friendly "binder full of women" gaffe. In the eyes of The Daily Show, Obama was the Road Runner and Romney was Wile E. Coyote and the President dropped the metaphorical anvil on him. 
Colbert, of course, would have to disagree. Despite Romney's "lack of stool experience" and the Town Hall voters' questions "obviously pandering to women" (Fox News' words, not ours), he declared the GOP candidate to now lead the debates 2-0. While Stewart and The Daily Show team had some well-crafted zingers, Colbert won this round of the debate coverage. His effortless ability to weave his jokes with his outrage (particularly about Romney's stance on gun control) and his message to all those Undecidies ("Just flip a god**mn coin already") made him the clear victor. In your face, Emmy(s)!
But don't worry Daily Show fans, there's still one more of these debates left and, for better or worse, 19 more days to go until the election. Watch The Daily Show clips, followed by The Colbert Report clips below and decide for yourself who won this round of making fun of the Presidential race. 
[Photo credit: Comedy Central] 
More:
Shhh! We Have Obama's and Romney's Secret Notes from the Debate
Celeb and TV stories: From Our Partners:

Giuliana and Bill Rancic Planning for Baby No. 2: 'I Would Love a Girl,' Says E Host
(Celebuzz)

Kate Upton Flaunts Major Cleavage in Vogue's November Issue — PHOTOS
(Celebuzz) Movie stories:
From Our Partners:

NY Comic-Con: 34 Crazy Costumes
(Moviefone)

(Moviefone)