How to Ace 'American Idol' Auditions: Lessons From The Top 12 Alums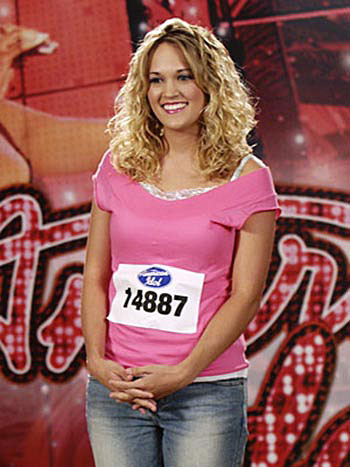 It's finally here! The first night of a long season of American Idol starts at 8 PM on Fox, with the long trek across the U.S. to find a roster of singers to duke it out in Hollywood. Of course with the start of Season 12 comes the first run of the new Idol judging panel: Mariah Carey, Nicki Minaj, and Keith Urban, along with returnee Randy Jackson.
While there will be fireworks behind the judges' table, let's not forget the real reason we're here: finding a potential pop star. Auditions are the first opportunity to call favorites, but it's not always easy to spot the future finalists and superstars.
Contestants can't exactly swap bodies with Carrie Underwood in order to make it through to Hollywood, but they can take a pointer or two from former Idol contestants. Take a walk down memory lane with our 12 favorite Idol auditions, and pay attention: if you're lucky, you'll learn enough to spot the potential Season 12 winner, or perhaps the next unlikely Idol success, before anyone else.
Season 5 Runner-Up: Katharine McPhee
Lesson Learned: You can be slightly haughty as long as you've got the goods to back it up.
Season 1 Winner: Kelly Clarkson
Lesson Learned: Being generally amazing helps.
Season 4 Winner: Carrie Underwood
Lesson Learned: Being generally amazing and having a face like a Disney princess also helps.
Season 3 7th Place Finisher: Jennifer Hudson
Lesson Learned: Have more talent than you know what to do with, be misunderstood by voters, and come back to become amazing and super famous anyway.
Season 8 Runner Up: Adam Lambert
Lesson Learned: Being called "theatrical" is the last thing you want to hear at an Idol audition, so if that's your style, you've better have that special something that made Simon Cowell give Lambert a shot anyway.
Season 7 Winner: Kris Allen
Lesson Learned: Be unyieldingly shy, but so adorable and talented, that we hope with all our hearts you come out of that shell. [Note: not having your audition air on TV helps, just ask Allen and Clarkson.]
Season 2 Runner Up: Clay Aiken
Lesson Learned: Defy the conventional expectation of a pop star, while possessing a voice like butter. Is that voice coming out of a that nerdy dude? You betcha.
Season 3 Winner: Fantasia Barrino
Lesson Learned: If you're amazing and we want to give you a big, giddy hug at the end of the song, you've done it right.
Season 7 Winner: David Cook
Lesson Learned: You can figure out your "stage persona" later… if your voice is fantastic. We'll also let the haircut slide.
Season 5 Fourth Place Finisher Chris Daughtry
Lesson Learned: Piss off the angry judge and please everyone else. (In this case, Daughtry was dismissed by Cowell and beloved by the rest.)
Season 7 Runner Up: David Archuleta
Lesson Learned: Forgetting a word or two is cool, as long as you're a really amazing singer. So, when you flub a word, for goodness sake, just keep going!
Season 6 Winner: Jordin Sparks
Lesson Learned: When showing off how amazing you are, it also helps if you're super young (Sparks was 16) and your dad was a famous football player. Hey, look: dimension!
What's your favorite forgotten Idol audition? Tell us in the comments!
Follow Kelsea on Twitter @KelseaStahler
[Photo Credit: Fox]
More:
Nicki Minaj on Her 'Idol' Feud With Mariah Carey: 'We're Both Crazy' — VIDEO
How Nicki Minaj Vs. Mariah Carey Could Change Idol Forever