How to Avoid a 'Scandal': Kerry Washington Handles Your Burning Shooting Questions Like a Pro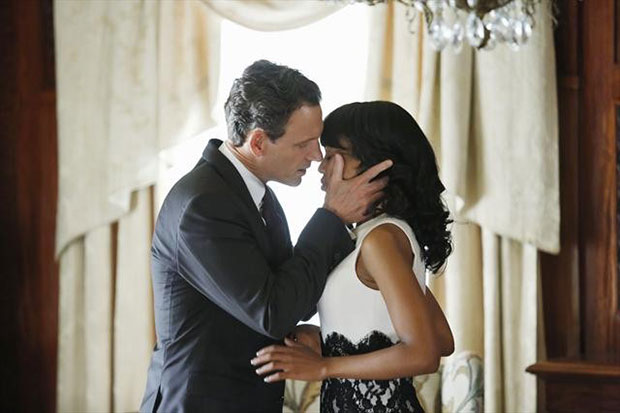 After more than a season playing professional D.C. problem-fixer Olivia Pope on the ABC drama Scandal, Kerry Washington has become a pro at handling the media. Especially when pesky TV reporters try their hardest to squeeze out any information at all about who tried (and maybe succeeded?) to assassinate the president during last week's episode, "Defiance."
"I wish I could tell you," the actress laments when asked the burning question ABC has been promoting all week: Who shot Fitz? "But I would lose my job! I'd get fired."
Much like Washington's attorney character, the actress is skilled at dancing around a question as if it wasn't asked at all. Or maybe it's the threat of unemployment levied by showrunner Shonda Rhimes?
"It's really funny — I feel like when I do press for the show I have to be Olivia Pope," Washington tells Hollywood.com. "I have to manage the media so that I don't get in trouble!"
Okay, fine. Some things, especially explosive plotlines that will color the rest of Season 2, are even more enjoyable to watch when you don't actually know anything about how they'll turn out. But we do know a few things about "Happy Birthday, Mr. President."
"The gunman will be revealed," Washington teases. But maybe not who hired said gunman, or whether the gunman — or gunwoman — has anything to do with the Fitzgerald Grant presidency conspiracy club. "I will neither confirm nor deny that," Washington says with a laugh.
We'll also learn more about the beginning of the Grant administration via flashbacks. "One of the really amazing things in this episode is that the shooting really is a catalyst for her to recall lots of memories from the beginning of the presidency, so we get more flashbacks."
Want to know more about what's happening throughout the rest of the season? You'll have to read between the lines, because Washington remains tight-lipped about it and it's all Rhimes' fault.
Although it's a little hard to believe Washington would actually get fired for getting a little chatty during an interview, it's understandable that she doesn't want to jeopardize losing a job she's so passionate about.
"I love working for Shonda. It's so amazing to work for a woman who challenges me. I feel like i'm growing so much as an artist and a person because we all work for a showrunner who really challenges us and pushes us. I am really, really, really grateful for that. I love her evil genius!"
So, blame that evil genius for these eight brilliant ways Washington channeled her character to sidestep questions about Scandal Season 2:
Will Fitz live or die?
You'll definitely learn more about the impact of what happened, I'll say that.
Did Mellie know about about the shooting before it happened?
I think you will have more insight into Mellie's relationship with the event for sure.
What does the shooting mean for her relationship with Edison?
I'll say that the situation is such a heightened crisis that it really is a game-changer for the county, so everything gets looked at in a new way. Everything.
Olivia has been leaning on her team more in recent episodes, will that continue?
Yes and no. I tweeted last week that we're definitely now dealing with Big Office Harrison, so yes, I think we will continue to see these characters evolve and reveal more of themselves, the other associates in the office.
Will we get more revealing backstory episodes?
You will continue to learn more about the different characters in the White House and the different characters at Pope & Associates in the coming weeks.
How will the shooting change the game for the conspiracy team?
I can't answer that!
Will the voting machine investigation continue?
You'll have to stay tuned!
What about the Quinn Perkins mystery that's been on the backburner?
You'll have to watch and see! [Laughs]
What can we expect from "Happy Birthday, Mr. President," and what can you tease about what happens after?
You learn a lot about the first days of the White House and the presidency. The characters that we met last season in the very first episode, we begin to learn more about how they became who they are and how their relationships evolved into the relationships that they have today. You get to learn some more things about people in all different areas of the show.
Scandal airs Thursday nights at 10 p.m. on ABC.
[Photo Credit: ABC]
Follow Jean on Twitter @hijean
More:
ABC Orders Full Season of Scandal
New Django Unchained Posters Featuring Kerry Washington and More
Kerry Washington Hails Shonda Rhimes at GLAAD Media Awards
You Might Also Like:

Jake Harper to Disappear on 'Two and a Half Men'? 6 TV Kids Who Vanished