How to Binge Watch a Show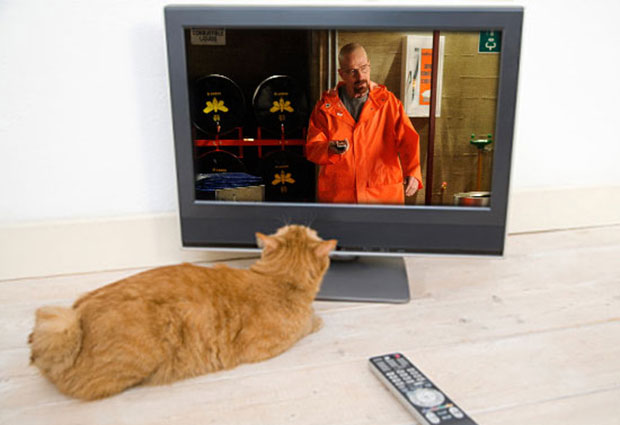 Ladies and gentlemen, you only have one week left. Yes, you only have one week before Labor Day, which means the end of summer and the start of the deluge of new fall programming that is going to demand your attention like two little kittens dancing around a linoleum floor playing with a ball of yarn (so cute!). But since there is nothing on TV this week except for the Republican National Convention (boring) and reruns of Jeopardy (boring but educational), now is the perfect time to binge watch one of the shows you've been meaning to catch up on all summer.
So, how do you get through a season of Homeland, two seasons of Downton Abbey, or the entire back catalog of Arrested Development without losing all of your friends and the circulation in your hind quarters? Binge watching is a fine art, and here are some tips we learned over the years.
Load Up: There are plenty of ways to binge watch a TV show: DVD, Netflix streaming, Hulu Plus, iTunes downloads, on demand, or just saving it on your DVR and waiting for the right moment. But, no matter how you choose to watch the show, make sure you have every available episode of the series at your fingertips. The best part of binge watching is you don't have to wait six months (or more!) in between seasons to find out what happens with all those cliffhangers. That is, if you were smart enough to plan ahead and get that next batch of episodes all queued up. Because once you find out that Don Draper is getting a divorce, you're going to need to see what happens immediately and you'll feel like a jerk the whole three days it takes for Amazon to mail you the next box set.
Gather Supplies: Here are things you will need while settling into your couch for the foreseeable future: water, snacks, wine, delivery menus, a computer (to IMDb random actors), a phone, a blanket, slippers, adult diapers (you never know), utensils, candy corn (really, it's the best), the cat (or dog), and your favorite caffeinated beverage. Maybe a pillow. Maybe.
Adjust Your Schedule: You know how long each episode is and what else is going on in your life, so make sure you rearrange events so that you will have time for complete episodes. Send the kids to bed 20 minutes early so you can get to the series finale of Friday Night Lights. Leave work before 6 PM so you can get in at least three episodes of The Wire. Leave the pooch at doggie day care all night so that you don't have to get up in the middle of Breaking Bad to address his selfish needs. The show must come first!
Be Strict: While you're trying to cram as much programming into a tight schedule as you can, don't deviate from the agenda. If you say, "I'm watching this until 11, and then I'm going to bed," then be sure you go to bed. Don't say, "Oh, just one more," because you will keep "one more"-ing yourself until it is 3 AM and you are still up and you may have to call in sick the next day. Then when you update your Facebook status with the Final Five Cylons, your boss is going to know what is up and you will lose your job because you had to find out just how Battlestar Galactica ended. That's not cool.
No Cancelling Plans: Your real life friends who talk to you are more important than the fake friends you are watching on the tube. Sorry, your best friend Madison's birthday will not wait. The next season of Deadwood can.
Find a Friend: Since you're watching the show after everyone else, it shouldn't be hard to find a friend who wrote her doctoral thesis on Buffy the Vampire Slayer or who has been posting GIFs of Community before it was even cool. Be sure to know who has watched the show and who hasn't so you can call them up and talk about your favorite episodes all over again. But be careful about spoilers. You don't want to ruin the good time of anyone who doesn't already know who shot J.R..
Shower: Seriously, no show is good enough to justify body odor.
Follow Brian Moylan on Twitter @BrianJMoylan
More:
How to See the Avengers Shirtless
Dear Joseph Gordon-Levitt: It's Time to Start Taking Your Shirt Off