Oscar Nominated 'How to Survive a Plague' Earns Dramatic Miniseries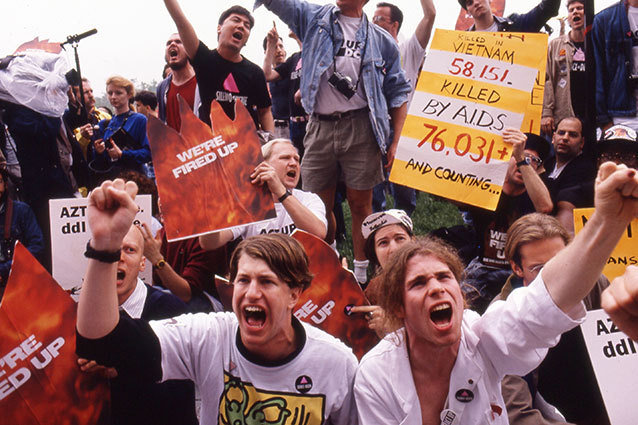 An Oscar can go a long way in carrying forth a film's voice and message. When it comes the big categories, only a nomination is necessary to get people talking about a movie — even though Argo snagged the Best Picture victory, nods gave Zero Dark Thirty, Lincoln, and Beasts of the Southern Wild some well-deserved chatter. But smaller categories often warrant a trophy to earn their inhabitants a bit of public awareness. This is only one reason that it's such a pleasant surprise to hear that Best Documentary nominee How to Survive a Plague is finding new life after the Academy Awards: as a potential dramatic miniseries.
ABC has purchased the rights to David France's doc — which chronicles the AIDS epidemic at the end of the 1980s and the rise of the ACT UP activism community in contest of the disease — to develop as a scripted minseries, as reported by The Hollywood Reporter.
France likens the developing project to an historic miniseries from the network: "ABC is the network of Roots. For ABC, this is a continuation of a dialogue that they've had with their viewers and with history, and that to me was the most decisive and convincing fact in our discussion — this idea that we can do that again and that we can be that for the gay community." The report adds that actual footage from the '80s and '90s, much like in France's film, will be applied to the miniseries.
RELATED: The Sundance Documentaries That You Absolutely Must See
As France told Hollywood.com in an interview about the documentary, his interests as a storyteller are not simply to spread information and instill passion in the fight against the disease, but to illustrate a strong and wonderful community of people who rose up in a time of turmoil. "Nobody had gone back and tried to tell the story not of what HIV did to a community, but what a community did in response," France said. "What a community did back to HIV. How the community wrestled this virus into some kind of standoff." The dramatic format will be perhaps even more conducive to this theme.
Still, there are several important elements that France feels he did not touch upon in How to Survive a Plague. "What the film doesn't say, and what we now know, is this totally unexpected consequence of effective treatment of HIV: it renders people with HIV virtually non-infectious," France said. "So if, for example, you had HIV, and you were in treatment and you had an undetectable viral load, you are virtually no risk to any sex partners. Which is fantastic."
"We don't talk about it, it's just not being talked about. There's been hoopla — over the summer, a lot of people were commenting over this declaration of us being on the verge of producing an AIDS-free generation," France continued. "And that's in part what they're talking about. If we got these drugs into everybody, if we got everybody who needs the pills to take the pills — now, only a third of the people with HIV in the U.S. are on this medication, while everybody with HIV should be on them — if we got everybody on this, we solve that problem. We solve the problem of the epidemic."
You can read the full interview with David France here.
Follow Michael Arbeiter on Twitter @MichaelArbeiter.
[Photo Credit: IFC Films]
---
From Our Partners:


25 Most Scandalous Celeb Twitpics (Vh1)


33 Child Stars: Where Are They Now? (Celebuzz)