Want to Win 'Chopped' ? Here's How To Do It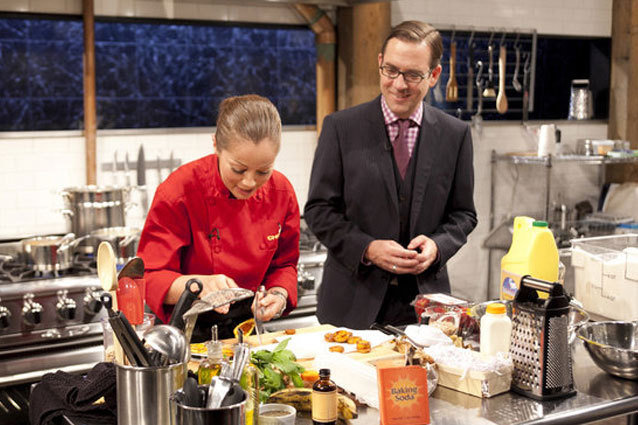 There's a reason why Chopped is everyone's favorite cooking competition show. Its premise surrounds a unique mystery basket that always, without fail, contains the most motley and difficult to combine ingredients (an actual appetizer basket included corn nuts, fruit cocktail, black garlic, and uni). Viewers come back again and again to see what's in this episode's basket, and I don't know about you, but literally every single time I say, "OK, there's no way they can make a meal out of those things." And literally every single time the contestants prove me wrong, as I watch stupefied and even more addicted to the show. Throughout the seasons, I've noticed certain techniques and tricks that have proven to get you to the next round, and some that guarantee your dish will get chopped. Here are some crucial tips to consider if you ever dare to go on Chopped.
1. If there's any kind of cookie or cracker in the basket, use it as breading.
Rather than trying to do something fancy with the cookie or cracker intact, crumble it up and use it as breading for whatever meat is in the basket. The judges are always looking for creativity in how you incorporate the ingredients, and leaving something whole and barely manipulated would be a cop-out. Turning it into a delicious breading, however, will always score you points.
2. If you get poultry, start cooking it right away.
There's nothing the judges, especially Geoffrey Zakarian, hate more than undercooked or raw meat. The dish could be perfect in every other way, with bountiful flavors and a stunningly elegant presentation, but if the meat is undercooked, it will most likely end up on the chopping block. If you get poultry in your basket, get that cooking before dealing with the other ingredients.
3. If you just can't figure out one or two ingredients, make a sauce.
Ingredients like butterscotch candy or tamarind soda can really throw a wrench into your plans. For items like these, the safest and usually most effective route is to reduce them and either integrate them into a sauce or salad dressing. Use ingredients from the pantry to temper them — don't ever let weird flavors like these stand out on your plate, unless you really know what you're doing.
4. If you can bake something in the dessert round, do it. It will impress the judges.
The dessert round is often an afterthought for many of the contestants, especially if pastry is not their strong suit. If you plan on competing, do yourself a favor and brush up on your baking skills beforehand. The last round matters! If you can manage to bake something in the 30 minutes allotted for the dessert round, incorporating all of the ingredients in a clever and delicous way, you will get a major edge up on your competition.
5. It Maneet Chauhan is a judge, make something spicy.
"Queen of Indian fusion" Maneet Chauhan holds one criteria above all others, which often turns into a recurring criticism: the dish could use some heat. It seems there is no amount of spice this lady can't handle, so if you're on the show and she's a judge, you better bring the heat.
6. If Scott Conant is a judge, don't use raw red onions.
If Scott Conant is judging, do not, I repeat, DO NOT use raw onions, especially red onions. It baffled me when in one episode, a contestant was told very loud and clear by Conant that he hated the raw red onions in his appetizer, and he uses raw red onions again in his entree course anyway. Maybe he wanted to lose $10,000? The lesson here is simple: avoid raw onions at all costs — even if Conant is not judging, because I'm pretty sure I've heard Marc Murphy complain about them too.
7. Get everything on the plate!
This is even more important than making sure your meat is cooked enough. One of the main rules of the competition is that you must use all of the mystery basket ingredients in your dish, so if you leave something off your plate, you are technically disqualified from moving on to the next round, even if your dish is perfect otherwise. And this applies to all of the judges' plates. Even if you have just one incomplete plate, you can bet your $10,000 that they will make a big stink about it. "The grilled yak was delicious — however, I didn't get any of the black garlic aioli on my plate. Alex, do you mind if I try some of yours?" They'll reach over and make a scene, you'll be embarrassed, and it's just awkward for everyone, including viewers at home.
8. Don't be cocky, and always listen to the judges' advice.
They're judges on an esteemed cooking competition show for a reason. They know their s**t. And you may think you're on the same level because you're the executive chef of a French bistro in Albany, but believe me, you're not. When contestants' arrogance shows and they take the judges' criticisms poorly, this will most definitely help inform their decision. In one episode, a contestant with multiple Michelin stars felt compelled to boast about his career outside of the Chopped kitchen and how he didn't even need to win to feel validated. Guess what? He was the first to be chopped. The judges didn't even care about his dish at that point. Then there was the contestant who argued with every criticism the judges offered, and so they had to offer him some much-needed advice : "Sometimes, you need the ingredient of humility."
More:
The 300 Sandwiches Couple Is Horrible
Jason Segel's Maple Syrup Heist
Best Movie Theaters Across the Country
---
From Our Partners:


40 Most Revealing See-Through Red Carpet Looks (Vh1)


15 Stars Share Secrets of their Sex Lives (Celebuzz)