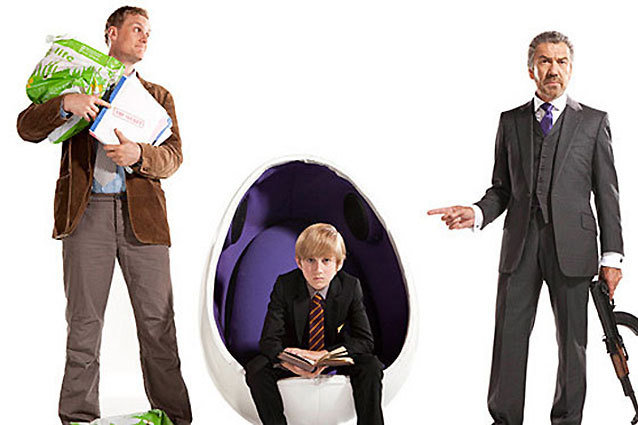 SkyTV
Spy proves the power of British humor is limitless. This Britcom blends two wildly incongruous genres: the family comedy and the spy movie. James Bond as a single dad?!? What are they thinking? 
Tim Elliot (Darren Boyd) is trying to raise his obscenely intelligent and persnickety son Marcus (Jude Wright). Despite being a recovering drug addict, his ex-wife Judith (Dolly Wells) is fighting for full custody. While searching for a job, Tim inadvertently stumbles into a government test and gets drafted into the secret organization MI5 by The Examiner (Robert Lindsay). Despite his bumbling nature, Tim manages to get through scrapes with the help of his co-worker/love interest Caitlin Banks (Rebekah Stanton) and his genius/burnout best friend Chris Pitt-Goddard (Mathew Baynton).
Spy is just fun. Boyd is able to get you to really root for his character. Sure, Marcus would rather live with his mother, Tim isn't the best spy, and he's desperately in love with his co-worker. You still want him to win. Wright is great at the overly precocious son. He gets into really elaborate hijinks at school, from gambling rings to elaborate school elections. Plus, there's something about British schoolboys in uniforms that makes you believe they're all geniuses. It may be the accent. Baynton has also gone on to star on another Hulu series, The Wrong Mans. 
The series manages to pack a lot into a short show. Each episode, Tim must contend with some challenge from the case worker of his divorce, or a work issue usually instigated by the wildly inappropriate and inept Examiner, and still try and show Marcus some fatherly love.
This series is fun and its shorter episodes allow for really expedient binge watching. Luckily, both seasons of the series are available on Hulu.