Huzzah! Conan O'Brien Tweets From 'Arrested' Set With Andy Richter and Jason Bateman
Last week Will Arnett announced some Arrested Development news that caused fans to spontaneously erupt into a joyous chicken dance. No, he wasn't beginning his own Gob-inspired magic show. (Though how amazing an illusion would that be?) No, he not-so-coyly shared during a visit to Conan that none other than Conan O'Brien and his trusty sidekick, former Arrested Development guest star Andy Richter would both be appearing in the wildly anticipated upcoming fourth season, currently in production. In the arsenal of Arrested Development references, let's face it, we all collectively blue ourselves. 
O'Brien and the Richter quintuplets wasted no time getting to work on the returning series, as evident by the Twitpic the late night host sent out yesterday to followers. "Here's the 1st official photo from the new Arrested Development on @Netflix. Spoiler alert: I'm an amazing actor," O'Brien
tweeted
with the photo of his time on the set with Richter and Arrested star
Jason Bateman
. Take a look at the three funny men, looking surprisingly serious here, on the set. (Hey, great comedy
is
serious business.)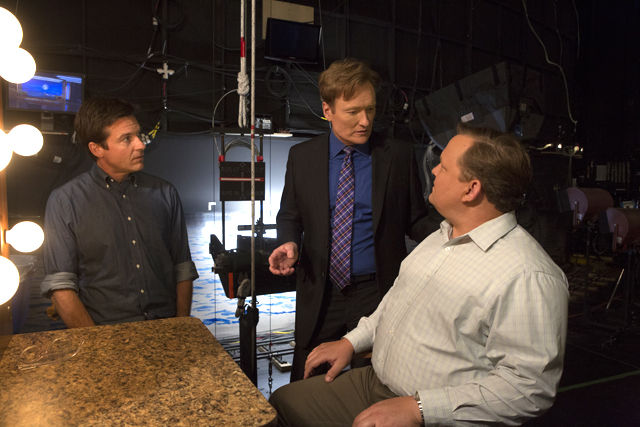 While it's a safe assumption that Richter will be reprising his role(s) as himself and the rest of the quints, O'Brien has stayed tight-lipped on what his part will be. Maybe he's playing the part of grown-up Steve Holt?
Steve Holt
!
[Photo credit: Twitter] 
More: