I Just Blue Myself: 'Arrested Development' Production Halted for Possible Extra Episodes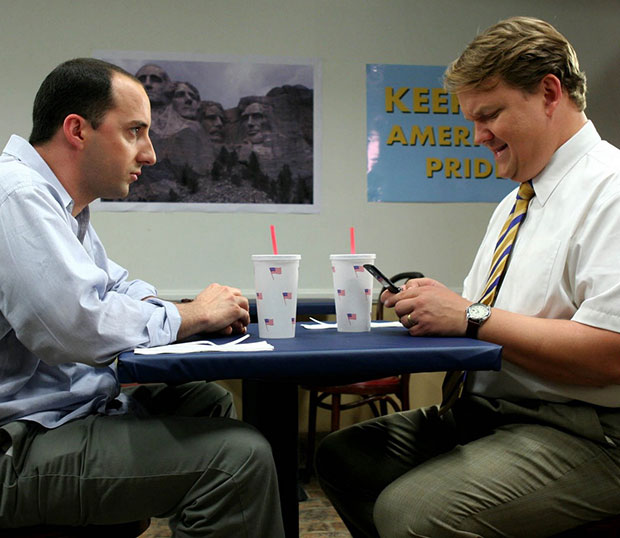 It seems as though the comedy gods and goddesses are smiling down on us mere mortals tonight: Deadline is reporting that beloved cult comedy comeback kid Arrested Development has received an additional 2 – 5 episode order for its upcoming Netflix-based season. (We'll pause here to let you freak out and hyperventilate. Take your time, it's fine. We understand: you should've seen us five minutes ago.)
That's right! The Bluth family had such a great time filming that creator Mitch Hurtwitz was really feeling it and came up with more material, scenes, and storylines than originally anticipated. His cup really runneth over, and he wanted to share in the spoils. After all of this good stuff just came oozing out of him, Hurwitz, his producing studio friends at 20th Century Fox TV and Imagine TV, all got together and approached Netflix, who agreed to expand the season order.
Now, here's the catch: as a result of all these new episodes and a filming schedule that was supposed to wrap up just after Thanksgiving, the production has been put on hold while Hurwitz goes back to the drawing board to figure out schedules, incorporation of new arcs, additional storylines, and the like. No easy feat, especially given how long the series has taken to reboot itself in the first place.
All is not lost, though: the new schedule has filming at least tentatively scheduled to pick up again in late January. This should, theoretically, give Hurwitz and Co. plenty of time, as Netflix has already announced their hopes for a spring premiere date for the series. And better still? No wait time! Netflix apparently plans to make the entire season available at once: meaning all the episodes. Meaning someone will be calling in sick that day to power-watch (har har har, just kidding! I'm a very responsible employee).
Speaking with Deadline about the series, a Netflix spokeswoman is quoted as saying that the company is "thrilled with the direction of the show, with the footage we have seen and with the relationship between Mitch, Imagine, 20th and Netflix," but that they are not "confirming or announcing the final episode count" at this time. That said, the same spokeswoman believes that "fans will be thrilled when we do." Very sneaky, Netflix. We see what you're trying to do here. You're toying with our emotions! No matter, no one can upset someone in a $2,500 suit.
Hollywood.com has reached out for comment, but did not hear back at the time of publication.
Are you excited for more episodes of Arrested Development? Are you Steve Holt, and are you looking for your father? Let us know in the comments!
[Photo Credit: FOX]
Follow Alicia on Twitter @alicialutes
More:
Arrested Development': 20 Running Jokes We Hope Keep Running
'Arrested Development': Michael Cera Revives George Michael for New Season — PICS
'Arrested Development' Season 4 Casts Conan O'Brien and Andy Richter (and His Quints)

Lea Michele Calls Her Breasts 'My Prizewinners'

Kim Kardashians Best Bikini Moments (PHOTOS)