Ian Somerhalder and Nina Dobrev Split: 'The Vampire Diaries' 5 Best 'Delena' Moments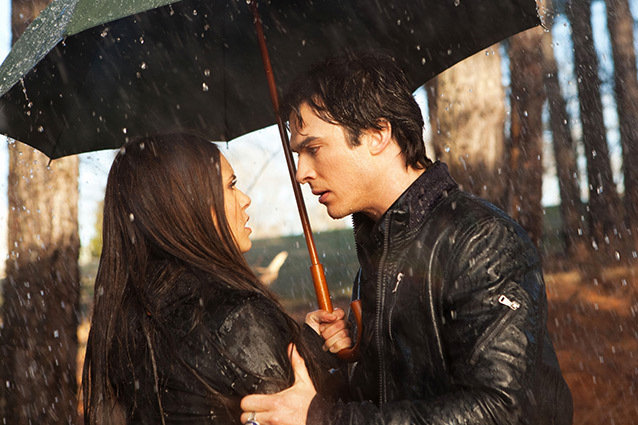 The Vampire Diaries fans who ship "Delena" — a.k.a. Elena Gilbert and Damon Salvatore — have always gotten a kick out of the off-screen romance perfection of Nina Dobrev and Ian Somerhalder. It added fuel to the "Delena" fire that "Stelena" shippers — a.k.a. those who paired Elena with Damon's brother Stefan (Paul Wesley) — couldn't argue with. But on Thursday, "Delena" fans were hearbroken to learn that the TVD costars have called it quits after more than three years of dating, a source told Us Weekly.
Before you start worrying about how this will affect Elena and Damon's on-screen relationship, the source assured fans that the couple, who first took their romance public in 2011, are "consummate professionals," and "will continue to work together and remain best friends, which is where the relationship started." 
While we mourn the death of Dobrev and Somerhalder's off-screen romance, let's console ourselves with the best "Delena" moments of that past four seasons of TVD… and lord knows, it was almost impossible to narrow down the list to just five. These two have chemistry that are off the charts, and even though they have never been an official couple on the show, there were a plethora of hot, romantic, sweet, and sexy moments to choose from. 
5. Damon Dances With Elena
While Stefan was going off on a human blood bender, Damon stepped in as Elena's escort for the Miss Mystic Falls pageant in Season 1 Episode 19, "Miss Mystic Falls." Their dance was equal parts scorchingly hot and beautiful. Though many fans have been shipping Delena from the pilot, this dance was the major event that launched the true Delena relationship. 
4. Damon Confesses His Love for Elena
When Elena is without her vervain necklace in Season 2 Episode 8, "Rose," Damon confessed his love for her, but compelled her to forget what he said because he couldn't be selfish with her. It was a beautiful moment, showing how much Damon had grown, and yet it was heartbreaking because Elena wouldn't remember the encounter (until she became a vampire in Season 4 and remembered all the moments she had been compelled to forget).
3. Damon Kisses Katherine, Thinking It's Elena
After the events of Mystic Falls' Founder's Day where all the vampires almost died, Damon confessed his love for Elena and they kissed on her porch in Season 1 Episode 22, "Founder's Day." We didn't find out until a few minutes later that the girl he kissed wasn't Elena, but actually his ex-girlfriend Katherine. It was a classic TVD bait and switch, but for Delena shippers, it was still worth it to see the two finally kiss. 
2. Elena Kisses Damon
In Season 3 Episode 19, "Heart of Darkness," Elena went on a road trip with Damon to get Jeremy and bring him home. Elena made the first move outside of their motel room and passionately made out with Damon. It was hot, it was amazing, I rewound over and over. Florence + the Machine never sounded so good!
1. Damon and Elena Have Sex
This was the episode that defined the Delena shipper movement. In Season 4 Episode 7, "My Brother's Keeper," Elena and Damon finally had sex, but the moment was semi-ruined when it was revealed that she was also sired to him. Whatever, still rewound and rewatched more than I am proud of!
What do you think, Delena fans? Did we include your favorite moment, or did we miss one? Hit the comments with your thoughts!
Follow Sydney on Twitter: @SydneyBucksbaum
More:
Claire Holt Teases Her Male Conquests on 'The Vampire Diaries'
'The Vampire Diaries' Star on the Key to Spin-Off Success
Sneak Peek at 'The Vampire Diaries' Spin-Off 'The Originals' 
---
From Our Partners:


Watch Justin Bieber Attacked in Dubai (Celebuzz)


33 Child Stars: Where Are They Now? (Celebuzz)