'Idol' Alum Haley Reinhart: I'm Rooting For Jessica Sanchez — EXCLUSIVE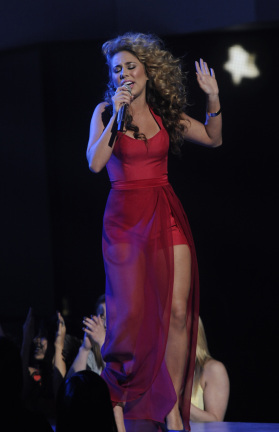 Many American Idol fans were heartbroken when Season 10's Haley Reinhart was eliminated just before the season finale, but from the looks of things, she's doing just fine. Fresh off performing her new single, "Free," on the Idol stage March 22, Reinhart is looking to the future, "getting back to her roots," and offering up some advice for the Season 11 contestants.
She's quick to praise all of Season 11's singers, but she candidly revealed to Hollywood.com who her favorite is: "Jessica Sanchez is amazing – I've been rooting for her," she says. "She's 16 and she's got such a great voice." And when asked which Top Nine contender she'd do a duet with, Reinhart is sticking with her fav. She says, "It would be kinda crazy, me and Jessica."
Though she's got her personal favorite, she knows the unpredictability of a live show determined by voting. "A lot of people speculate and say 'they keep having their peaks now, what's going to happen?' But really, nobody can predict what the future will bring," she says. If contestants want to win, they "have to bring it every week."
She certainly knows how to bring it, and so does her Idol pal, Season 10 finalist Casey Abrams. They've famously kept in touch since the season ended and even released a holiday single together, a cover of "Baby, It's Cold Outside" fueling speculation that the pair are dating. Confirmation of that rumor stays safely buried but Reinhart says she'd love to work more with Abrams, adding "He's such a good friend of mine now and he always will be … He's been talking about maybe even getting me on his album." We'll get to see some more Casey-Haley magic after all.
Both Reinhart's and Abrams' continual work in the music industry proves that while Idol doesn't always create, well, idols, it's a stepping stone into the music industry. And that's a realization near and dear to Reinhart's heart. "I've grown up in bars and lounges and clubs. My parents have been musicians, starving artists … I've lived it," she says. "Here's the way of the future and the truth … there aren't just agents and management just sitting in the clubs anymore looking for talent." She knows how lucky Idol's top talent is to get the exposure on television so quickly, but "It's kind of the new way of the world … it's such a great way to find new talent." Reinhart is certainly living proof of that.
Her new album Listen Up! hits stores May 22 and her video for "Free" is out now. Take a look at the sultry singer getting her career on.
More:
American Idol Top Nine Recap: Best Episode Ever?
American Idol Rankings: Top Nine Keep the Judges On Their Feet