'Idol': Is Colton Dixon TV's Tim Tebow?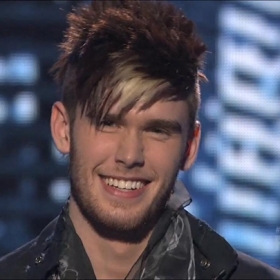 Forget Tebow Time. Last night's Idol was all about Dixon Time. Starting off the show with a performance of Lifehouse's "Everything," Colton Dixon — up to this point known more for his big hair and skinny jeans — officially carved out position for himself: Idol's resident religious rocker. Calling the tune his favorite "worship song," Dixon broke down, called God his "king," and channeled the Jets' new addition by taking a very emotional knee. It was, well, everything a young religious Idol fan would hope for. 
Of course, it was also something some original Dixon fans might not have expected. Since appearing on the series in season 10 — before being cut prior to the semifinals — Dixon had played the indie rocker card, connecting with texting viewers via covers of Paramore and White Lion. But his now very-public connection with God has placed him in an interesting position: He gets to enjoy the support of an entirely new fanbase… but risks alienating skeptical viewers more eager to roll their eyes than read a Bible. Not to mention the fact that his desire to publicize his beliefs increases his chances of being mocked by the snark demons that fuel Internet's nastiest memes.
Just ask Tebow, a public figure that singlehandedly revived the Denver Broncos 2011 season… while being relentlessly mocked on the Internet and by talk show hosts. But, then again, as the adage goes, there's no such thing as bad PR. Tebow not only enjoyed success during the football season, but he also transformed into an icon for religious fans and enjoyed being the center of a rumor that named him the next Bachelor. (So there are worse things than losing your starting quarterback slot.)
 But will Dixon enjoy the same success? Religious Idols have won in the past (Carrie Underwood, after all, did release a single called "Jesus Take the Wheel," which, coincidentally, Hollie Cavanagh sang last night), but none put their love for God quite as front and center as Dixon, no matter how many gospel choirs backed them up. So will his dedication increase fans' dedication, or simply turn a large, important segment away? I'd like to be optimistic and think viewers will vote based only on his vocals, but personality plays a huge role in this talent competition. Luckily for Dixon, his God connection might be enough to turn the Idol into a religious rock icon. 
What say you? Are you hailing Dixon's religious Idol awakening?
More: