'Idol"s Heejun Han: Steven Tyler Schools The Class Clown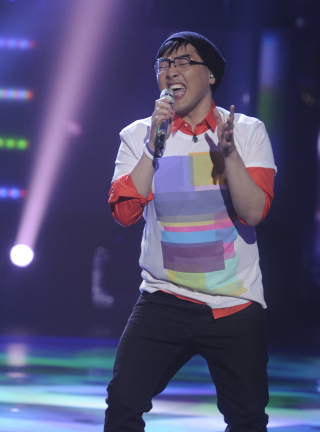 It's probably getting a little old to read about how wonderful the singers are on Season 11 of American Idol. But that's not the only thing making people weary. Crowd favorite and top 10 finalist Heejun Han hasn't been garnering fans for his amazing performances, but rather his sparkling wit. That is until he took it too far on March 21's Billy Joel episode. 
The episode saw American designer
Tommy Hilfiger
and world-famous producer
Diddy
advising the contestants in the fashion and music realms, respectively. Most contestants listened and took these considerations into account—even those who respectfully chose to ignore some pointers when hitting the stage,
Phil Phillips
—but Heejun seemed to take it all with a grain of salt. When it came time to get style pointers from Hilfiger, Han joked around with the fashion legend, saying he wanted to dress like Madonna and Michael Bolton. He's been a lovable presence on the series, but that level of disrespect was off-putting. 
Of course, it only got worse when he took the stage and turned his homage to Billy Joel into a joke. Han began singing a ballad before calling "psych!" and switching to "My Life" running around the stage in a t-shirt and beanie. The entire performance was goofy and over-the-top, like a guy in a karaoke bar who's got the confidence of a good singing voice and a few martinis. It's not respectful to the series, the process, or the contestants. And while judge Jennifer Lopez tried to ignore that and judge him seriously,
Steven Tyler
(of all people) actually gave some serious, truthful and valuable commentary. 
"I'm a little tongue-tied. Are you happy that you took the piss outta that song?" said Tyler. "You told 'em, and I'm happy you did—made you feel good inside. But they were right; the music business will kick your ass. At some point you gotta try and take it more serious, just a little bit more." Tyler's comments were met with copious ire from the audience.
But he's got a point. Han has made waves for being the cut-up. Even during the group week in Hollywood, he became a small-screen hero for putting the cowboy bully Richie Law in his place. But now it's serious. His competitors are killing their songs. He needs to step it up or go home. And from the way Randy Jackson's comments went, they all know it's time to put our beloved Heejun out to pasture. "At least you had a good time," he said. That's what you say to someone who's on their way out, not the guy who's going to win the competition.
Watch the judging unfold in the video below and let us know what you think? Is Han's time up? Was he disrespectful or was he just being Heejun?