'Idol"s Top 10: Too Much Talent?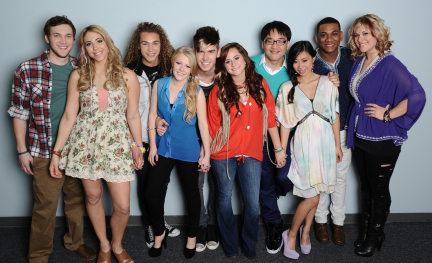 Season 11 of American Idol is simply unfair.
Usually, but the time we reach the Top 10, the contestants have either flubbed performances or shined completely. By now, we've usually got a few frontrunners. Key word: a few.
But this year, we've got a surplus of fantastic singers. There isn't just one or two standouts – in fact, every episode shuffles another singer into that top slot. It's like a talent-based version of musical chairs. During Whitney Week, 16-year-old Jessica Sanchez emerged as the top performer for emotional rendition of "I Will Always Love You," but hot on her heels were tiny powerhouse Hollie Cavanaugh with "All The Man I Need" and country singer Skylar Laine with "Where Do Broken Hearts Go." The three ladies outshined their male counterparts, making them the talk of the Idol audience.
But it wasn't long before Sanchez was dethroned: for the night of "Songs From the Year They Were Born" gospel singer Joshua Ledet blew each and every one of his competitors out of the water with "When a Man Loves Woman" causing judge Jennifer Lopez to declare it the "best performance on Idol ever." Runners up of the night were Phil Phillips and again Laine and Cavanaugh. Even Sanchez, who suffered a slight misstep with a poor song choice, her incredible talent is still undeniable.
And these folks are just the standouts in a group of fantastic, unrealistically talented singers. While his aesthetic and his sounds are more of a treat for the Warped Tour pop-rock-alternative crowd, Colton Dixon hits his niche nail on the head every time. Seventeen year-old Deandre Brackensick never manages to be the top singer on the stage, but he has an incredible voice and beautiful tone. He's yet to have his real "wow" moment, but he'll get there.
That leaves us with seven favorites: Brackensick, Phillips, Sanchez, Laine, Ledet, Cavanaugh and Dixon. The problem is, unless they changed the rules this year, there are only two semi-finalist spots available in that finale. It also means talented, but less polished singers like Elise Testone, Heejun Han, and Erika Van Pelt are likely to sing swan songs in the very near future. But what happens when voters trim the fat and we're left with the top seven?
This oversaturation of powerful voices signals one thing: the judges and the voters are going to up the ante on criticism. Once we reach the top six and seven, even the smallest stumble will spell the end for Idol contestants, but the exciting part is that for the first time in a long while, the competition is truly anyone's game.
The Top 10 sing Billy Joel classics March 21 at 8 p.m. ET/PT on Fox; be sure to check back here tomorrow for our recap.
Who's in your top five? Can you even fit just five people on your favorites list? Let us know in the comments or get at me on Twitter @KelseaStahler.