'Idol' Top 6: Four Small Miracles (or Disasters) That Would Justify Keeping Hollie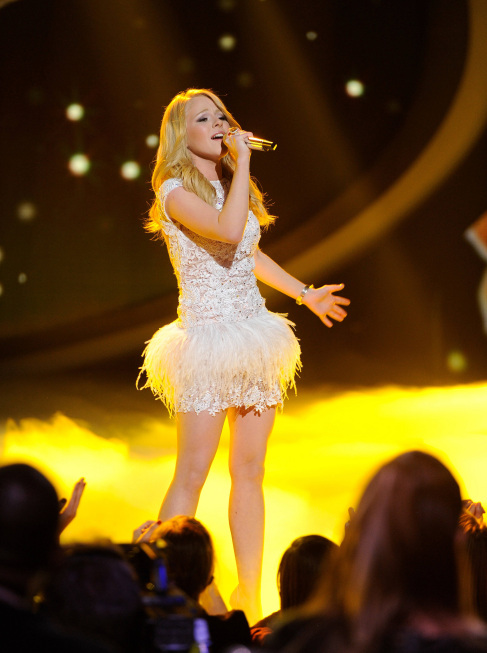 We may never be able to solve the mystery of how on earth Hollie Cavanagh manages to hang on so tightly to her spot as an American Idol finalist, but we can plead with voters to stop allowing her to sit pretty on the hallowed Couch of Safety. She can silence an entire auditorium of embarrassed by-proxy Idol fans with a single disappointing performance, yet she stays while ready-made performers like Jessica Sanchez and Colton Dixon receive the sting of the bottom ranks. Steven Tyler's tangential compliments about floating spirits and ism and wasms make more sense than Hollie's apparently stalwart position.
The Top 6 are about to tackle the classic catalog of rock legend Queen, and unless one of these miracles (or disasters) take hold, there is no way Hollie deserves to hang on like a sweet, flaxen-haired, pretty little leech. She may be a cutie pie and a total sweetheart, but to get all Simon Cowell on this thang: This is a competition, not a friendship circle.
1. The Idol Bug Strikes Back
The infamous illness that swept Idol's Hollywood week audition rounds would have to make a comeback and take out at least three other contestants (Jessica, Joshua, and Phillip or Skylar) for Hollie to have any right to stay in the competition.
2. Her Idol Journey Has Been a Ruse Leading Up to a Miraculous Movie Moment Comeback
Maybe it's all part of the plan. First, she won our hearts with her tiny frame and big voice coupled with her childlike love of her impossibly cuddly puppy. Second, she solidified her hold on our hearts by showing off her loving, cute-as-a-button parents. Then, she failed to improve and failed so hard onstage even Ryan Seacrest couldn't muster a comforting comment. Next, she hung on past top dogs like Colton Dixon, defying all odds, and now, she's ready to come out of her shell and show us that she had it in her all along. It's the perfect Lifetime movie moment, but I'd bet a million of Jennifer Lopez's bandage dresses that it's never going to happen.
3. Elise Testone Gets Even More Lost
My problem with Miss Testone from day one is that I can never manage to pinpoint Who She Is As An Artist. You'd think after 10 years of America's oldest live singing competition, our finalists would know how to carve out an image. Elise is more scattered than a Jackson Pollock painting, and if Now and Then week was any indication, she's still lost. Still, she's got a fire in her that deserves a little more exploration than Hollie's vanilla ballads, but if she walks out this week and tries to convince us she's the next Rihanna after trying on Rocker Chic, Blues Singer, and jazzy hats for the past few weeks, she may be the more deserving castoff.
4. Phillip Phillips Strains His Vocal Chords With an Over-Growl
As I've mentioned an embarrassing number of times before, I'm a Phil Phillips fangirl. Do they still make puffy, sparkly stickers for pop stars? Because my day planner could use some sprucing, and I wouldn't mind using some Phil paraphernalia to do it. But seriously, he needs to watch his growling because he's approaching dangerous levels. I know it's his thing, and I love it just as much as the next obsessed Idol viewer, but he's in danger overusing his superpower. And when he crosses that boundary, it'll be like that time my cousin loosened the lid on the lemon pepper shaker and my salmon quickly went from pink to black and yellow. It's bad, mmk? But as long as he continues to keep the grrrrr in check, Hollie should be packing her cute little (I'm assuming) pink and purple suitcase and head on home.
Do you think Hollie deserves to stay? Are you the one voting 10,000 times to keep her on the show? If so, who should go home in her place?
[Image: Fox]
Follow Kelsea on Twitter @KelseaStahler
More:
American Idol: Inside the Dramatic Save
Idol Results: A Predictable Surprise