'Idol' Top 7 Redux: No More Second Chances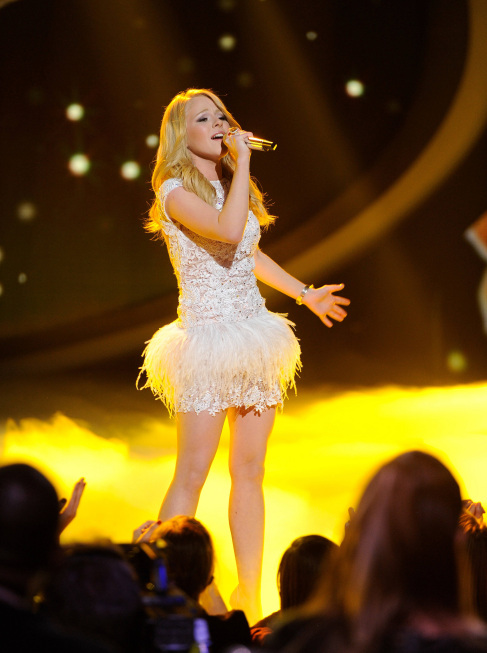 The Idol "save" may have robbed viewers of true, in-the-moment drama during April 12's elimination round when the judges saved Jessica Sanchez from an unjust elimination, but moving forward, it's going to be heartbreak city. The save is gone, which means no more mulligans. So voters, get it right.
To help avoid another near-fiasco, voters, here's a helpful cheatsheet. Some of these singers are still teetering on the brink of elimination, but more importantly, two little ladies have very clearly outworn their welcomes. Let's avoid another Idol-ocolypse; these are the folks to watch closely during tonight's "Now and Then" performances.
Hollie Cavanagh
Sweet, sweet Hollie, unless you've spent the last week taking private vocal and stage performance lessons from Mariah Carey herself, it's time to sing that swan song. How she's managed to survive past singers like DeAndre Brackensick and almost Jessica Sanchez is a mystery bigger than the contents of Steven Tyler's mystical Coke cup. She walks around the stage like the weight of her inevitable big note is going to crush her tiny Tinkerbell frame at any moment. She found her way onto this competition way too young. One day she'll be a tasty cookie, but right now she's still a little gooey in the middle.
Elise Testone
This girl has reinvented herself more times than Madonna and Season 11 has only been underway since mid-January. The problem is, each of her reinventions haven't managed to stick. Like her confusing outfits, there's always an element or two that's just… off. Idol wants us to believe she has a shot, evidenced by her presence in the coveted "pimp spot" at the end of Idol performance shows, but it's all for naught. Elise has something, but she doesn't have what it takes.
Phillip Phillips
Don't start throwing tomatoes just yet. I love Phil, and I mean L-O-V-E him. If I still had a trapper-keeper, it would probably have his name written in sparkly pink gel pen surrounded by gold and purple hearts. However, he's cooked. He's done. He is what is and he's probably never going to grow or change beyond that. I love his John Cougar Mellencamp with a touch of Dave Matthews flavor, but the fact is it's not Idol material. He made his mark, he showed us who he is, and he's so cute he'll get a record deal and sell iTunes singles like gangbusters. But unless he has an actual Idol "moment" (he has to give someone other than Jennifer Lopez a case of the goosies), it's time to say "Sayonara."
Disagree? Think Colton Dixon or Skylar Laine belongs in the bottom three? Sound off in the comments!
Follow Kelsea on Twitter @KelseaStahler.
More:
American Idol Recap: No More Drama
American Idol: Inside the Dramatic Save