'Idol' Winner: 'I Hate Crying, But I'll Probably Cry Some More'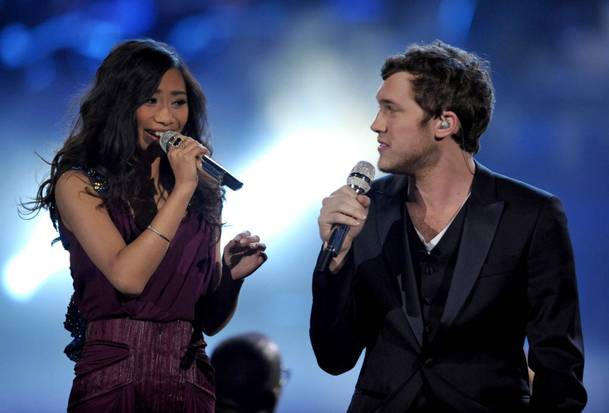 Your new American Idol is… Phillip Phillips! In typical American Idol fashion, we didn't discover the season's winner until the finale's final moments, but the audience had already chosen their victor long before to the announcement.
Cheers for Phillip might have erupted constantly throughout the episode, but, while Ryan read the results, there was a still hush in the crowd. Of course, it was replaced with a deafening roar following the mention of our winner's name. In case Phillip didn't already know how much he was loved, the audience made sure to tell him by screaming their affection when he lost his words during his final performance.
When Phillip arrived backstage, he still seemed in shock about his victory. "It's crazy," he said. "I'm still a little numb from the whole situation. It's just so unreal. Did I think I was going to win? Heck no. It's so unreal. It hasn't sunk in yet. It's such a blessing to have. I'm kinda ready to try and comprehend it all."
He continued: "After I won, I wasn't thinking about anything. I wasn't thinking about the song, I wasn't wanting to sing or anything. I just started thinking about the journey and how far all of us have come and how far we made it. It's so overwhelming."
In the final moments of the broadcast, the TV audience saw Phillip greet his family and the judges. But those were only the first people to reach the American Idol at the Nokia Theater. After the cameras stopped rolling, he received hugs from executive producer Nigel Lythgoe, the stage crew, and a slew of unfamiliar well-wishers. But, naturally, it was his family that seemed most excited for him, even as they waited with me and the other journalists for Phillip to arrive in the pressroom.
Back inside the Nokia Theater, Jessica Sanchez didn't go unnoticed, despite her runner-up status. The crowd cheered loudly when Cory Almeida, the warm-up comic, asked everyone to give her another round of applause following Phillip's performance. In fact, a woman sitting in front me wondered aloud, "How could she be so good and only 16?" Everyone knows there are big things to come for Miss Sanchez.
Jessica admitted backstage that she is ready to leave the "Idol bubble" behind and find her way as an artist. "I'm kind of relieved that this whole thing is over … I think that Phillip really deserved to win. I'm so happy for him. He's worked harder than any of us. He's had to keep up with his health issues with his kidneys, and I think he's been through it a lot more than us mentally and physically. I don't have any regrets at all. I made top two so that's crazy," she said. "I'm happy, I'm content. Now that this whole thing is over and now that I have time to really throw myself into my music, it's going to be all 100 percent me, so I'm excited."
Earlier in the night, both Phillip and Jessica had the opportunity to sing with their own Idols. When Phillip took the stage to sing with John Fogerty, the crowd screamed hearing the Idol finalist's first word. The performers had Randy Jackson, as usual, nodding his head along to the music, but it only took Phillip's smile to get the teenage girls in the crowd squealing. Unlike last night, this audience was more than willing to give them a standing ovation moments after the song started.
One of the most memorable moments of the night came via Jessica's duet with Jennifer Holliday. Maybe she should have chosen a song like "And I Am Telling You I'm Not Going" for her first — this performance showed the crowd what to expect from a Jessica Sanchez concert. The room was electrified. I have never seen the judges more excited by a performance. J. Lo started the song with her hands in the air and, by the end, she couldn't stay seating, giving Jessica yet another standing ovation.
In addition to a number of performances by the Idol Top 12, the audience was most excited to see Rihanna and Aerosmith take the stage. In fact, the crowd didn't even wait for Rihanna to appear before getting on their feet. And in case you forgot, Steven Tyler proved that he is more than an Idol judge by taking the stage with his band, Aerosmith. As expected, the audience — and likely viewers at home — was dancing and singing right along with them. Surprisingly, no one in the Nokia Theater had lost their voices quite yet, despite their dedication to screaming.
The night was jam-packed with performances, but nothing came as more of shock than Ace Young asking his girlfriend Diana DeGarmo to marry him during the finale. After Ryan's fake-out a few weeks ago, the crowd seemed thrilled that this proposal was for real. You could hear "awws" through the theater as the couple kissed again when the cameras were no longer on them. Ryan even whispered congrats to them before he left the stage.
But let's not forget about our Idol winner, Phillip. He will undoubtedly be starting a major press tour, finally getting a much-needed surgery, and joining his fellow Idols on the road. But, before any of this can happen, he knows there may be a few more tears: "I hate crying, but I'll probably cry some more. It feels good sometimes."
[Image Credit: FOX]
More:
American Idol Recap: The Winner Is…
American Idol: Dream Duets For the Finale