What If 'Friends' Never Ended?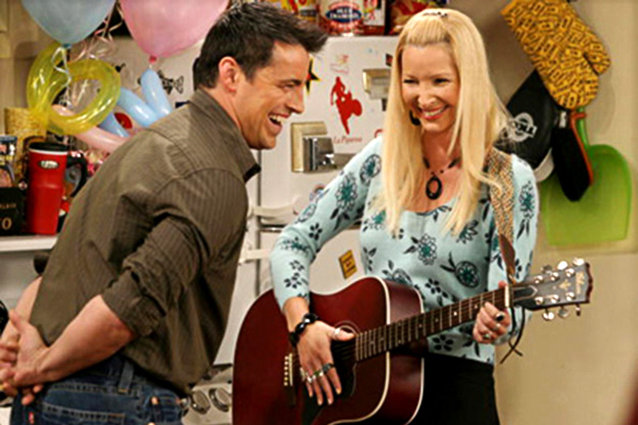 The turn of the millennium was a crazy era for the common man. We'd horde together in packs of six, set up camp in the trenches of the nearest coffee house in lieu of our established workplaces, keep farm fowl as pets, and fall in love with our closest companions with only hijinks (and the occasional dramatic twist during sweeps) as the weightiest of consequences. But ever since that fateful Thursday evening in May of 2004, we've been lost. Lost without our Friends. Yes, these past nine years have been decidedly empty without that West Village sextet to guide us. And the friends themselves have felt a bit out of sorts, too: Matthew Perry and Lisa Kudrow reunited on Friday when the former took a guest hosting gig on Piers Morgan Tonight, vocalizing a shared wish that their beloved NBC sitcom had never ended.
"If I had a time machine," Perry said, "I would like to go back to 2004 and not have stopped." Kudrow added, "If it were up to us … I would keep going." She continued: "There would have come a time, anyway, when someone would have said, 'We've had enough.' But, why not have fun until they do."
We've had enough. We can't imagine ever uttering those words in regards to seasons of Friends, but the time might have come eventually. Think about what we might have seen if the show had kept airing through to the present. A nice idea, sure, but, some of it wouldn't be pretty…
Monica and Chandler, living a quiet life in Westchester with 9-year-old children Jack and Erica, grow stir crazy in the dull suburbs without the pseudo-psychotic antics brought on by their Manhattan-affixed friends. The married couple tries to incite the same kind of madcap shenanigans with their new neighbors, inviting relative strangers over for trivia competitions that would result in house swapping bets, but just end up alienating themselves from the rest of the town. Their children become pariahs as a result and run away from home the first chance they get.
Ross and Rachel, raising baby Emma together in the city, continue to bicker about the unresolved nature of their "break." Additionally, Rachel fosters resentment over having never taken that new job, and life, in Paris, taking her anger out on Ross as he reverts back to a rage only previously seen in episodes of sandwich theft.
Joey moves to L.A. and gets his own spin-off. It's terrible.
Phoebe enjoys a wonderfully happy life, however, having been the only adult mature enough to branch beyond her codependent group of friends and marry someone outside of her social circle. She and Mike Flanagan enjoy a healthy albeit quirky relationship, reveling in one another's eccentricities, often visiting Phoebe's brother and sister-in-law and their three children, with whom she maintains a close and loving relationship. She's still kind of insane, though.
Follow Michael Arbeiter on Twitter @MichaelArbeiter | Follow hollywood.com on Twitter @hollywood_com
More:
The 'Friends' Reunion Isn't Happening
NBC's Hillary Clinton Miniseries
'It's Always Sunny' to End After Season 10
---
From Our Partners


Battle of the Bikini Bodies (Celebuzz)


Fangbanging: Complete Guide to All of 'True Blood's Sex Scenes (Vh1)