In Defense of No Electricity: Donald Trump's Visit to 'Late Night with Jimmy Fallon'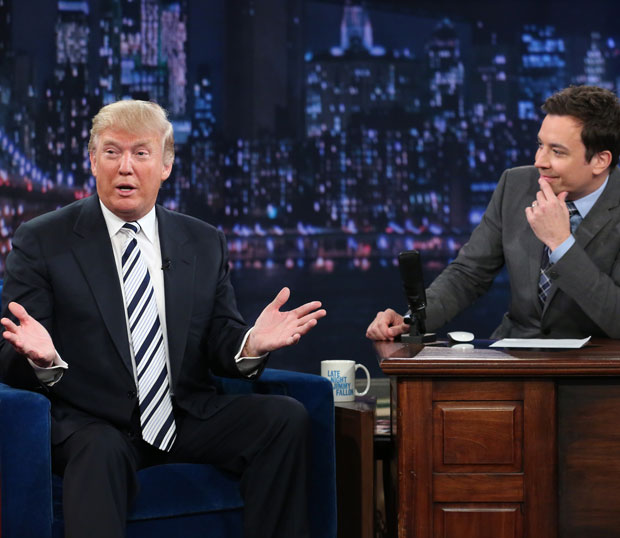 Jimmy Fallon and David Letterman have been breaking all the rules over the past week. In the wake of Hurricane Sandy's devastation of the Northeast — including New York City where they both, respectively, film their shows — Fallon and Letterman went on with the show in unique, exciting ways. (For the past two nights, Letterman has been taping audience-free shows, making for some of the most fascinating, experimental television in quite some time, while Fallon tried it on Monday and went back to his usual M.O. on Tuesday.) 
But those haven't been the only rules that late night hosts have been breaking, as evident by their decision to give air time to America's eye-roll Donald Trump after his "bombshell" plea to
President Barack Obama
. Unlike other comedians, who have opted to give their own
explicit counteroffer to Trump
or just
ignore him
full-stop, Fallon and Letterman have given Trump, a man they have both ripped to shreds in their monologues, a platform. Which begs the tree-falls-in-the-woods comedy question, if Trump says something and there's no one there to mock it, does it make a sound? 
While Trump visited a pre-Sandy Late Show with David Letterman last week (where he explained that he was demanding the college applications for "transparency" sake and Letterman delightfully called him out for having his Trump brand ties made in China), the Celebrity Apprentice host took a break from tweeting about the important matters of the storm to a post-Sandy Late Night with Jimmy Fallon appearance on Tuesday. Let's just say, if you're still one of the unfortunate souls without power, this may just be the silver lining. 
When Fallon, who has always been overtly congenial with his guests no matter who they are, brought up the controversy surrounding the Obama offer/stunt, Trump simply stated, "I offered a lot of money for something that's very easy to produce, but I don't know if that's controversial." (True, maybe "controversial" wasn't the right word for it. How about "d**kish'"?)
It's difficult to decide who made viewers more uncomfortable here, Fallon for not using a prime opportunity to really stick it to Trump on a night where both The Colbert Report and The Daily Show were out of commission (at two separate points in the interview Fallon told his guest "You couldn't be hotter right now," "I understand why you're doing it," and "I totally got your back on that") or Trump himself for clearly never being in his own self-manufactured joke. 
That said, Fallon didn't let the Donald off the hook completely. When asked what he would do with the alleged $5 million he'll donate to charity if Obama obliges to his inane request, Trump said he might give it to charity anyway, to which Fallon promptly replied, "New Jersey could use it." Damn straight. It's just too bad that even sitting a foot away from someone telling him what his big concern should be right now, he still won't get the message. Watch the groan-inducing visit here: 
[Photo credit: Lloyd Bishop/NBC] 
More: 
Late Night After Hurricane Sandy: Better To Go With An Audience or Without? 

Heidi Klum Cancels Her Annual Halloween Party Due to Superstorm Sandy
(Celebuzz)