'In Living Color' Reboot: Classic Characters To Beat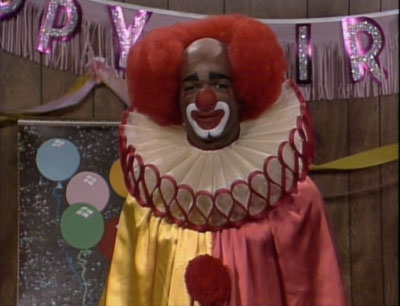 Grab a Fly Girl and your best 90s duds: In Living Color is back in full effect.
In Living Color is the stuff of comedy legend. Even if you never tuned into the early 90s Fox comedy sketch series, you've probably unknowingly uttered one of its classic catch phrases and you've definitely witnessed its influence.
TV Land is about to cement that fact by honoring the series' original players like Damon Wayans, Jim Carrey, and David Alan Grier for their "Groundbreaking" brand of comedy during the April 29 TV Land Awards. And luckily for those who were too young to catch on the first time around, Keenan Ivory Wayans' sketch show is getting a second life as a two-part TV special with potential for a full series pickup on Fox.
Of course, we're not so lucky to see the return of Fly Girls like Jennifer Lopez and Dancing With the Stars judge Carrie Ann Inaba or Carrey and Wayans as any of their classic characters. Fresh faces like Kali Hawk and Jennifer Bartels are signed on to star in a performance "inspired" by the original. For fans of In Living Color, that notion is more blasphemous than claiming Rosie Perez was the best Fly Girl. Why? Well, let's just say the original has a slate of classic characters that the newbies will need a miracle to top.
Homey the Clown
If you've ever heard someone try (and fail) to pull off "Homey don't play that," you can blame Damon Wayans and this unforgettable character. His hilarious ex-con forced into clown work complete with an unofficial theme song – "Homey the clown don't mess around, even though the man try to keep him down" – is the hallmark of ILC's comedy.
Fire Marshall Bill
This terrifying sketch comedy creature is the reason the late 90s were littered with films dependant on Jim Carrey's ability to stretch his face and body like a man-size a pile of fresh Gak. Fire Marshall Bill, we salute you.
Anton the Bum
This spastic character is another shining example of Damon Wayans' ability to create characters so memorable I probably still mutter their classic lines in my sleep. Good luck matching this level of devil-may-care comedy, newbies.
Men on Film
This sketch might not fly for contemporary audiences who might view it as a tad homophobic. However, the takeaway here is the conviction on both Wayans and Grier's parts as well as their mind-boggling knack for double-entendres. How these got past the censors in the early 90s is a mystery greater than the return of neon Reeboks.
Andrea Dice Clay
Whitney Cummings, eat your heart out. Andrea Dice Clay was sticking it to misogynist schmos like Andrew Dice Clay before you were in your first training bra. And she was doing it better.
Fly Girls
It's almost impossible that the Fox special won't attempt to recreate the magic of the episode interludes courtesy of the Fly Girls, but nothing will ever come close. Unfortunately JLo and her fellow bedazzled-jacket-and-bermuda-bike-shorts-wearing dancers were propped up by one very important factor: a raging case of the 90s. Any modern version will be cute, but it certainly won't be Fly.
Follow Kelsea on Twitter at @KelseaStahler.
More: