In Praise of Parker Posey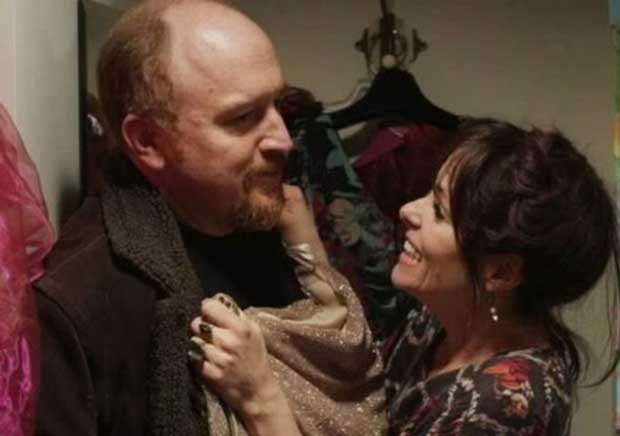 Did you see Louie last night? Really, you didn't? Well, you need to watch it, like now. I know, I know you may be sick of it because everyone is always blathering on about what a genius that Louis C.K. is and how his show is the best thing on all of damn television, but it really was that good. Normally I like the show enough, but I find it very hit or miss. Well, last night was a big hit, and it had nothing to do with Louis. All that anyone is going to be talking about is Parker Posey. Why, oh why, is this indie darling not a super huge star by now?
Posey started her arc on the show last week playing a mousey book store clerk named Liz whom Louie developed a crush on while on a desperate hunt for a girlfriend so that he could show his ex that he is still getting laid. She did a serviceable job as a woman upon whom Louie was projecting all his hopes. She was just a nice, cute lady in public for Louie to bump up against and awkwardly ask out on a date. Of course she says yes. And now that we actually know Liz, we know that she says yes to everything.
Last night's episode was about actually getting to know her, about finding the human beneath the hot skin that Louie asked out. Minutes after meeting Liz we find out that she is, well, certifiably insane. Like so many of Posey's characters she is high strung verging on manic and wearing every bit of emotion right on her still youthful face. But, seriously, Liz is nuts. She pushes Louie into a dressing room and tells him to put on a dress. She stops to talk to a homeless person about the snakes that are eating him. She screams at Louie to climb a huge flight of stairs. Nuts! But then Louie has to conquer his fears of the dress, she actually helps the homeless guy get the meds he needs and a warm bed for the night, and she shows Louie a great view of New York. She may be crazy, but she's crazy like a fox, and the real person is nothing like the sweet lady who will read his daughters books that Louie concocted in his mind.
But the best part for me was when they're on the top of a tall building and she sits down on the ledge and Louie freaks out and tells her to step off. She says no, because the reason he's afraid isn't that he'll fall, it's that he wants to jump. She doesn't want to jump, she says, she loves her life. And as she's staring at him, with the hazy glaze of the city behind her, something comes across her eyes. Some sort of recognition or memory, and the smile slowly dissolves into something else. Maybe it's fear. Maybe it's a reconsideration. Maybe it's a realization that she doesn't love her life as much as she says she does, but whatever came through her head, it made her get off that ledge and head for the door, and for the first time all night, she's vulnerable. That's when she finally tells Louie her name, and that seems to be something real inside her. It's not the craziness that he might fall in love with, it's that retreat from the ledge, that small amount of human understanding that she conveyed with just a flicker of the muscles above her neck. It was utterly brilliant.
I've always loved Posey since she was playing badass bitches in Party Girl and Dazed and Confused or harried molls in You've Got Mail and Superman Returns, but Hollywood never seemed quite sure what to do with her. She was too quirky for leading roles in anything but indies and her one shot at a TV shows — Fox's The Return of Jezebel James — was such an awful concept that the network failed to promote it, and it was dead on arrival.
But recently Ms. Posey (cause she's nasty) has been clawing her way back to the top. She wowed the critics in the overlooked romantic comedy Broken English and she's been wowing middle Americans by playing a borderline bonkers politician on The Good Wife. People who have no idea what Sundance even is think she's great as Eli Gold's ex-wife. Why can't someone turn that into a hit? Can't we get her at the center of a Bridesmaids-style lady comedy (she's worked with the comedic geniuses behind Best in Show and A Mighty Wind) or a sitcom of her own (maybe one about a 30-something attorney who has a mental breakdown, quits her job, and has to find the meaning of her life all over again)? And can we please, please have her play Zooey D's older sister on New Girl? Please?
If her little stint on Louie has proven anything, it's that Parker Posey still has a lot of life in her and is doing some of the best work of her career. Now if only everyone could be as smart as Louis C.K. and start giving her a whole lot more work. A Parker Posey is a terrible thing to waste.
Follow Brian Moylan on Twitter @BrianJMoylan
More:
'Louie' Recap: The Ballad of Tape Recorder
Sundance 2012: Parker Posey to Host Film Festival Awards Ceremony