Interview: Ken Marino On His 'Whitney' Guest Spot and the Talented Chris D'Elia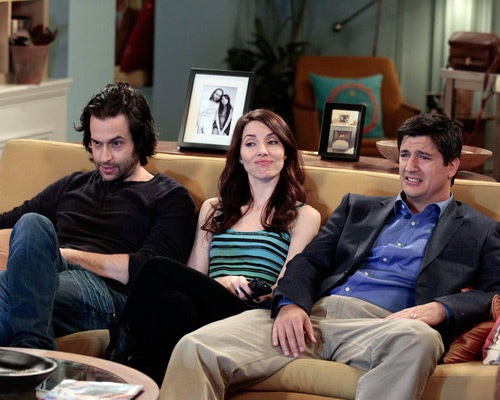 This week, NBC's newest comedy, Whitney, welcomes a face familiar to fans of comedy: Ken Marino. The funny man will stick around for a few episodes. We recently has the chance to speak with Marino about his stint on Whitney Cummings' sitcom, as well as about some potential other projects in the works (including his kitchen-under-repair, about which Marino spoke at hilarious length). Known best for his roles on the short-lived but much adored Party Down and the laugh-out-loud funny Childrens Hospital, Marino joins the cast of Whitney to pepper in a little bit of his trademark "Ken Marino voice," (which the actor insists does not exist). However, one of the things Marino discussed most passionately was the talent of Whitney's breakout star, Chris D'Elia.
On Whitney, Marino will play older brother to D'Elia, who plays Whitney's long-term live-in boyfriend, Alex. Marino described his character, Brian, as a furniture salesman who is "kind of jealous of [Alex] because he's smart and artistic and creative," and, as a result, will get "a little passive-aggressive, if not aggressive, with him."
He further went on about his character and how he decided to play him, and joked a bit about his weight-gain the week he was working on Whitney: "I just played Brian like me, like a version of me. The probably the more annoying version of me… the first thing I found out about the character of Brian is that his waist is 35 to 36 inches, and my waist is 34, and I'll stand by that. I don't know how they did it in the wardrobe department, but somehow they made my waist bigger the week I was hired."
Marino expressed a great appreciation for his opportunity to appear on the show alongside actors like Cummings, D'Elia, and the rest of the cast:
I took [this role] because I like Whitney and I'm friends with her and I enjoy the show. I enjoy the people who work on the show and I like the character. I enjoyed pretty much all of it. I mean, I think the actors on the show are a lot of fun, you know, getting to know them a little bit. I didn't really know any of them other than Whitney…They're just really good, funny people. And then the people running the show are very passionate about it and so it's fun watching, you know, a group of people creating a show that are really into it and passionate about it. That's nice to see, because sometimes you work on a show where, you know, everybody's just kind of walking through the motions. But there was an electricity on that set which is always exciting to be around. And then they gave me a fun part, you know, to play Chris's older brother. Chris is hysterical…we went to YouTube and started watching his standup. And man, that guy is funny.
Marino was so impressed by D'Elia's talent that he is even considering writing a project for D'Elia, although the details on this are still quite under-wraps. Marino did say, "I'm writing some movies with Dave Wain, so…I was thinking about something for Chris actually the other day that I wanted to write by myself that he would be great in…It's a standup a comedian as the main character."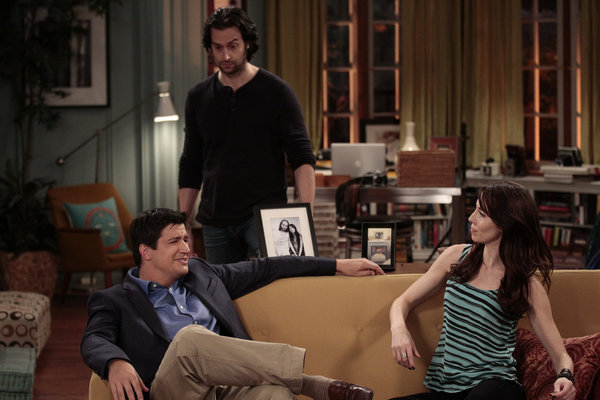 Marino also spoke about the differences between working on single-camera shows, like Party Down and Childrens Hospital, and working on shows taped in front of studio audiences, like Whitney. Regarding the latter, Marino said, "It is a whole different kind of vibe and when you get in there and you're in front of an audience, you tend to want to play up to the audience so you get laughs…I've done four-camera in the past and I really enjoyed, I like hearing the reaction from people that immediate reaction. And so it's fun."
The actor closed out by discussing the pressures of being a newcomer to an established set, and explained the importance of overcoming your insecurities for the sake of your work. "I think anytime you walk onto a set where you don't know anybody, you want to impress them. But I try to let that go — I try to get rid of that feeling very quickly because that's not the thing to be focusing on, for me, because it gets in the way of just kind of being creative and trying to serve the story and serve the scene and serve the character." Clearly, Marino is taking his own advice, because in everything he has done—roles in film and television, surrounded by his established The State group and by other company—he's delivered gold.
Whitney airs Thursday nights at 9:30 p.m. ET/PT on NBC.