'Man of Steel' and 'Iron Man 3' Are Ruining This Country… Well, At Least According to Stephen Colbert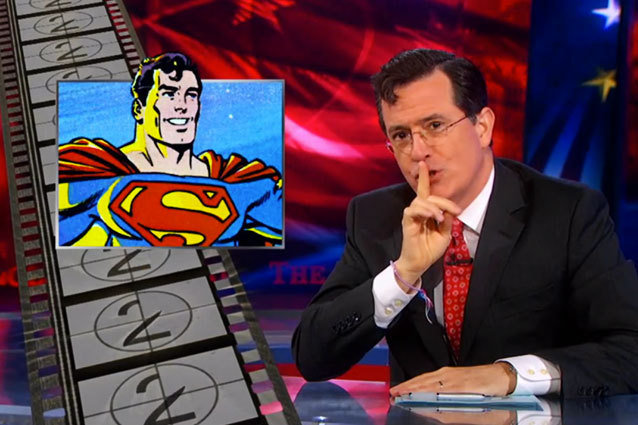 This weekend's big release Iron Man 3 — which is already pulling in insane numbers from around the globe ($307.7 million in 42 international territories to date) — is poised to do pretty darn well here in the good ol' U.S. of A.'s box office. Even more good news for Tony Stark: the third installment in the wildly popular Marvel series is playing just as well to critics is it is to excited fans. 
But there's one man who isn't excited about watching Robert Downey, Jr. suit up (and Gwyneth Paltrow strip down) for the blockbuster action comedy: one Stephen T. Colbert. During a segment on Thursday night's episode of The Colbert Report, the host/true American hero argued that movies like Iron Man 3 and the upcoming Superman flick Man of Steel are actually ruining this great country. 
Colbert's beef with Iron Man 3 stems from the Marvel's financial partnership with Beijing's DMG Entertainment. Turns out, in the Chinese version of the film, there's not only cameos from Chinese stars like Fan Bingbing (all of which made Colbert "angry-gry"), but the country also changed Ben Kinglsey's villainous character name from Mandarin to Man Daren. Which made Colbert beg the all-important question: "Why is Iron Man fighting the husband from Bewitched?"
Now, Colbert still has some time until Man of Steel comes out, but despite looking like a certain handsome news reporter with great power, he still had to air his grievances about the film. Well, namely that they are comparing this Superman to President Barack Obama and that they cast a posh Brit like Henry Cavill rather than a true-blooded American. Plus, as Colbert points out, "Do you Brits even need capes? You can just fly around with your magic umbrellas." 
Watch: 
Are you still going to see Iron Man 3 this weekend, or do you agree with Colbert that USA! USA! USA!? 
Follow Aly on Twitter @AlySemigran 
More: 
Our Superman Wish List for Henry Cavill
Did Zod Just Kick Superman in the Nuts in this New 'Man of Steel' Poster? 
'Iron Man 3' Poised for Massive North America Debut  
---
From Our Partners:


Nina Dobrev, Julianne Hough Bikini in Miami (Celebuzz)


33 Child Stars: Where Are They Now? (Celebuzz)