Is Angus T. Jones' Meltdown as Bad as Charlie Sheen's? Les Moonves says…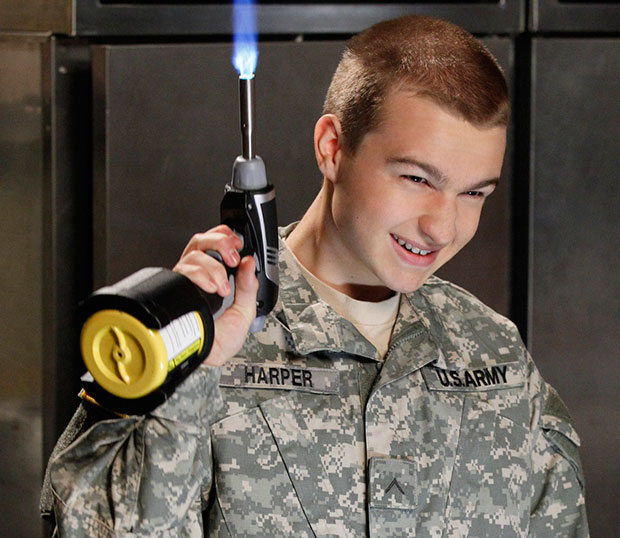 If this is indeed Two and a Half Men's last season, as is widely assumed, it's certainly not slipping quietly into the night. But to CBS Corporation President and CEO Les Moonves the latest controversy to hit the blockbuster sitcom, in which 19-year old "half man" Angus T. Jones called the show "filth" and urged viewers to stop watching, is just a bump in the road. "After going through what we went through with Charlie Sheen, it's been a piece of cake," Moonves told Forbes at a breakfast meeting for the UBS Global Media and Communications Conference in New York Tuesday.
However, don't think that Jones is in the clear. "I don't know what our status is with him," Moonves said of the actor. "I don't think it's been quite resolved…It seems to be what happens with child stars over time. We took this boy who started with us when he was eight years old. Now he's making over $300,000 per week, which is not a bad salary for a 19-year-old kid. By the way, he's still collecting his $300,000 per week." Later on during his keynote at the conference he joked about CBS's business model by mentioning, as one of his company's expenses, "that kid on Two and a Half Men who makes $300,000 per episode to talk bad about me." And when praising CBS publishing subsidiary Simon & Schuster Moonves said, "I don't have any kids calling me filthy in the publishing [space]."
But even if the Jones controversy is less problematic than Sheen's 2011 meltdown that resulted in his ouster from the show, Moonves' remarks do sound quite a bit like what he said during the height of the Sheen scandal. Responding at a March 1, 2011 media conference to the former Charlie Harper's tiger blood-fueled remarks, Moonves said, "[Sheen] is on the air quite a bit these days…I wish he would have worked this hard to promote himself for an Emmy." Several months later after Sheen had been ousted, Ashton Kutcher hired to replace him, and order restored in the CBS sitcom universe, he said "One thing you know from being in this business as long as I have is s**t happens…It was unfortunate…I'm glad that it's a chapter that's closed. It just wasn't fun. It's no good when there's rancor, it's no good when you have lawyers involved in a TV show."
As far as anyone knows, lawyers are not currently involved in the dispute between Jones and CBS, and Jones has shown a willingness to make amends and play ball. But in every other respect, Moonves' quotes about Jones and his quotes about Sheen are eerily similar. Maybe this show really is cursed after all.
Follow Christian Blauvelt on Twitter @Ctblauvelt
[Photo Credit: Robert Voets/Warner Bros]
More:
'Half Man' Angus T. Jones Is Comedy Fodder: Matthew Perry, Rainn Wilson Mock The Star
Angus T. Jones Speaks Out on 'Two and a Half Men' Controversy
'Half Man' Angus T. Jones Blasts 'Two and a Half Men,' Pleads You to 'Stop Watching'

Harry Styles Spotted Outside Taylor Swift's Hotel Room The Morning After Their Date Night (PHOTOS)

Fall Bikini Bodies: The Good, The Great, The OMG (GALLERY)