Is 'Awkward' The Voice of a New Generation?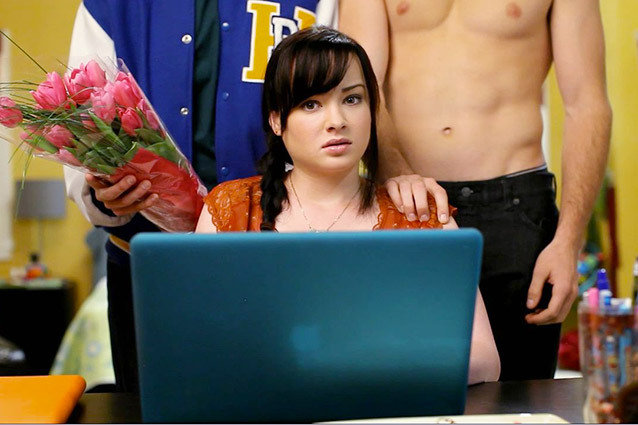 MTV
It's hard to believe that after replacing music videos with inspirational gems like Jersey Shore and Teen Mom that MTV could make any good programming. However, Awkward has proven to not only be a witty, entertaining series, it also gives voice to a whole generation. There are children raised on the avid vocabulary of Dawson's Creek, the sexual freedom of a world with condoms in schools, and they've never seen My So-Called Life.
Jenna Hamilton (Ashley Rickards) is a smart but marginally unpopular high school student that loses her virginity to her teen dream Matty McKibben (Beau Mirchoff) and gets a mean mysterious letter all in one day. She has an accident and everyone thinks she tried to commit suicide. With her social life in the balance, she starts to make more outgoing decisions. Her allies include wacky wordsmith Tamara (Jillian Rose Reed) and meek and geeky Ming Huang (Jessica Lu). She records all of her musings on her blog. As the show progresses she gets into a love triangle and evolves as an adult.
The teen comedy subverts expectations by accepting certain truths about teenagers today. Teenagers have sex so Jenna has sex. However, she makes thoughtful choices of partners and has safe sex thanks to lessons from her former teen parents, Lacey (Nikki Deloach) and Kevin (Mike Faiola). Jenna also deals with all the complexities of DTR-ing or defining the relationship in a digital age.
One of the greatest parts of the show is Sadie Saxton (Molly Tarlov). The character is monumental because Tarlov has a couple extra pounds. It's amazing to see a girl with a real body playing the popular girl and having the freedom to act however and say whatever she wants.
The show is hilarious but it really does address what's going on with kids today. Over-exposure via the Internet, suicide attempts, drinking, drugs, and bullying are all issues kids struggle with but Awkward deals with them with a sense of humor and levity.
Jenna Hamilton captures the Millennial generation. She is educated but makes poor choices. She's insightful but also slightly self-absorbed and entitled. She represents the every girl…except she's way more witty, expressive, and self-aware.