Is CBS Bumping 'The Big Bang Theory' for the NFL?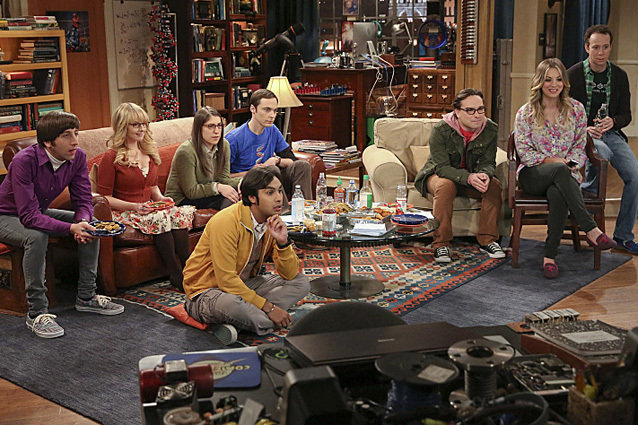 CBS Broadcasting Inc. 
When the NFL announced that it was opening up bidding for half of the Thursday night games that had been airing on its own NFL Network, most industry insiders believed that NBC — mired in a huge ratings slump on a night that it had once dominated — would make a strong push to acquire the rights.
There was shock in many circles then when it was announced that CBS outbid the competition and will air eight weeks' worth of NFL games in the fall. CBS typically wins Thursday night in the ratings pretty handily thanks to having The Big Bang Theory, one of TV's top rated shows, leading off the night.
Why would CBS reportedly spend over $200 million dollars to acquire football rights for a night where it's already strong, especially when the games will still be simulcast on the NFL Network? More importantly, why would a broadcast network allow anything to mess with one of its top rated shows? For comparison, imagine NBC moving Friends during its mid '90s peak.
The answer is largely tied to advertising. As the culture has become more and more accustomed to watching programming that it has recorded on a DVR, broadcast networks increasingly have difficulty justifying their ad rates. After all, how many people that watch a show recorded on their DVR also watch the commercials? The answer is a lot closer to zero than most advertisers are comfortable with.
In an effort to counter that, networks have begun to charge a premium for advertising time during shows that are considered DVR-proof. While the Super Bowl has always been a safe haven for advertisers looking for a captive audience, now anything that viewers are more inclined to watch live has become desirable. Chief amongst those properties are sports and awards shows. It isn't just the stalwarts of the NFL and the Academy Awards any more… the Golden Globes, the Grammys, NBA, college sports; anything broadcasting live has become manna to Madison Ave.
The other factor is that ratings have continued to rise for such programming. NBC's Sunday Night Football regularly wins the weekly ratings during the fall and finished last season in a dead heat with NCIS for the overall number one. During the week of January 6-12 of this year, the top three rated programs according to Nielsen were a NFL game, the college football national championship and the Golden Globes. Ten years ago, Disney made the decision to move Monday Night Football from ABC to ESPN because of weak ratings… now that would be unthinkable.
What that means for scripted TV is up for debate, but it certainly is just as alarming of a trend to that industry as the rise of reality programming once was. No one is sure what CBS is going to do with The Big Bang Theory. Some have speculated that it will move back to Monday night, where it began, and take the place of How I Met Your Mother. Others believe that CBS will simply delay the show's season and then run it with fewer gaps between new episodes… a tact that Fox has long taken with shows like American Idol to accommodate the World Series. Either way, Big Bang will likely be fine.
What isn't as clear is what will happen to those other programming hours that the NFL is taking up and CBS' less highly rated Thursday night fare like The Millers and The Crazy Ones. Broadcasting NFL games takes up one full night of a network's schedule and even with a limited commitment of eight weeks, there's a good chance that it will eliminate at least one if not more series orders by CBS.
Just as concerning should be the trend that it signals. CBS will already air at least one game on Saturday night and if successful that could be the next domain that the NFL decides to conquer. There have already been rumblings that Monday Night Football might find its way back to ABC as well as networks try to capitalize on the content that advertisers are lining up to pay for.
In the not-too-distant future, it's not unfathomable that broadcast networks will carry NFL games every night from Thursday to Monday and eliminate a block of scripted shows each time. Any network executive will tell you that even Sheldon and his Big Bang cohorts is no match for an increased profit margin. Hopefully, viewers are ready for some football.