Is 'Fashion Star' Really The New 'Project Runway'?

NBC's Fashion Star reality competition hit the glitzy TV runway on March 13, but is the series going to be hot for Spring?
When
Project Runway
lost its familiar faces and replaced them with the fully capable, yet unexciting crew – judges Isaac Mizrahi and Georgina Chapman, mentor and
Marie Claire
 editor Joanna Coles and host and model Angela Lindvall – many viewers realized the dream was over. The series still packs some of its initial punch, but it's lost its bravado and its heart all at once. That void leaves room for some other lucky, fashion forward show to take its place. Unfortunately for NBC's latest hat in the reality competition ring, that void is still wide open.
Fashion Star
is flashy and exciting, but its cheap approach and surplus of moving parts keep it from making the cut. 
That realization is not to say that the idea of Fashion Star wasn't worth exploring. Runway spends a great deal of time talking about "wearability" of new designs, yet recent episodes find contestants whipping up costumes for Nicki Minaj and the Broadway equivalent of a Cruella DeVil-Regina George hybrid. 
Fashion Star
takes the wearability concept to heart, making it the focus and driving factor of the show. Designers preview their fashions on the runway while Top 40 music bumps under the plexi-glass floor. Once mentors
Jessica Simpson
,
Nicole Richie
and
John Varvatos
give the newbies their two cents, the designs go to the highest bidder. Buyers from H&M, Saks Fifth Avenue, and Macy's sit in their throne-like sky boxes and throw numbers at the designs they like – those without offers face elimination. 
This process, while intriguing in its offer to take the lid off of the ever-booming fashion industry, serves to cheapen and degrade the art as a whole. Instead of contestants aiming to wow the judges and mentors with their creativity, they're trying to find something that will fit comfortably on the shelves of some of the most ubiquitous clothing store chains out there.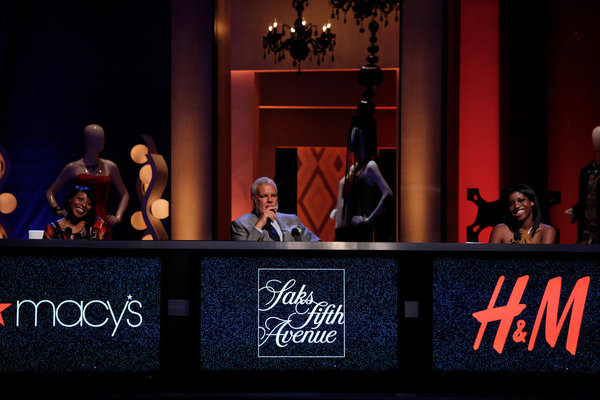 Fashion Star loses the personal element of the designs on Project Runway and then takes it a step further: all the winning designs are made available in mass quantities at the stores whose buyers won the bidding process. This seems to be working out for Saks Fifth Avenue and H&M, whose websites have already sold of their chosen designs – even one mini-skirt that's retailing for a whopping $350. The retail element is an interesting one, but the effect is that the designs are boiled down to mass-appeal simplicity and frankly, it's just not a joy to watch. 
But we're not alone. Fashion experts took to Twitter to express their disappointment, too. Marie Claire site director Abby Gardner called the show "a HOT mess" and Us Weekly's executive editor, Lara Cohen replied, "i would say that fashion star is the forever 21 version of project runway, but that's not fair to f21." 
But it wasn't just the run of the mill "fashions" that were under attack. The format of the show itself was on trial. Host Elle MacPherson took to the stage in the first few minutes with models clad in her line of intimate apparel and Phantom of The Opera masks, practically screaming "Hey, TV viewers, this is sexy, so please don't turn it off! (Also, please go buy Elle's underwear.)" The stage looked like was pulled from a Bratz Doll commercial, but considering the unimaginative and shiny elements of many of the designs, it's fairly fitting. Still, Vulture's The Fug Girls weren't going to let that go. They tweeted during the show, "#FashionStar clearly spent more on music & Nicole Richie's headbands than it did on anything else. -H" Yes, NBC. They're calling your new baby "cheap." 
With all the grievances against the new reality competition, it's a wonder folks like Simpson, Richie and especially Varvatos would throw their lot in with it. But if the already hopping design sales are any indication, America clearly knows something we don't.