Is Lindsay Lohan's 'Liz & Dick' Really About Lohan? — POSTER
Wait, what's that? You say Lindsay Lohan was arrested after leaving the scene of an accident Wednesday morning? Just one day after criticizing Amanda Bynes' driving habits on Twitter? Psh, don't look at those stories. Look at me. And now look back at this new poster from Lohan's upcoming Elizabeth Taylor Lifetime biopic, Liz & Dick. Divert, divert, divert!
The takeaway from the poster, which features Lohan with Taylor's trademark violet eyes and exorbitant jewelry? The words surrounding Taylor — "Controversial," "Scandal," "Child Star," "Paparazzi," and more — can just as easily apply to Lohan herself. (It's almost as if it was intentional!) That, and, sorry Lifetime, your logo still looks like the Girl Scout's to me. But I suppose that's fitting, since, like a Caramel deLite (Midwest represent!), this project is such a guilty pleasure, isn't it?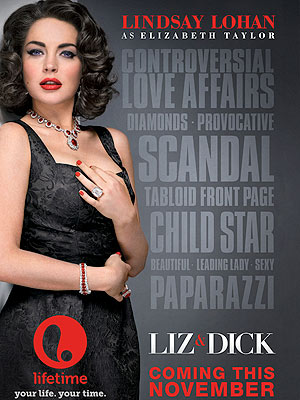 [Image Credit: Lifetime]
More:
Some New York Lessons for Lindsay Lohan
Lindsay Lohan Arrested for Leaving the Scene of an Accident