Is 'SNL' Afraid to Criticize the President?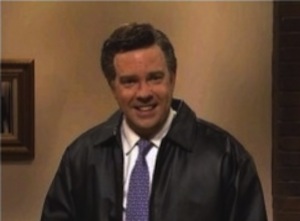 Saturday Night Live is getting flak this week, and it goes beyond the perennial lament of "the show isn't funny anymore." Last weekend, a President Barack Obama sketch mocking his handling of the one-year anniversary of the killing of Osama bin Laden made it to dress rehearsal, but was swapped for an anti-Fox News sketch at last minute. Now, the show is being accused of shying away from criticizing the President.
The rejected script made it online after Jim Downey, a veteran SNL writer, passed it along to his friend Tucker Carlson. In the bit, Obama — played by Fred Armisen — says, "This is a special time of year, when we gather together with family and friends to commemorate the shooting of this terrorist, and the gutsy decision that made it possible." Here's the sketch that replaced it:
After the news broke the National Review said the decision was motivated by "liberal taboo against mocking Obama in an election year," however Lorne Michaels insists that isn't the case. He says the sketch was cut because the show ran 27 minutes too long in rehearsal. "It wasn't its politics. It was about the comedy," Michaels told the New York Post. "The show's many things, but partisan it is not."
It's true that the show cuts and rearranges sketches every week (that's the point of dress rehearsal), but it's a stretch to say that the show isn't liberal. In fact, Jason Sudeikis and Fred Armisen admitted as much in a recent appearance on Meet the Press. Sudeikis, who plays Romney, explained that the show doesn't set out to be partisan, saying, "We're only a reflection of what's being done out there, there's no agenda, believe it or not." Yet, while the cast and writers have always maintained that they're only focused on what's funny, not the political implications of their impersonations, Sudeikis confirmed that they tend to lean to the left. "You can't help it with our age and where we live that the writing and cast to skew a little bit liberal," he said.
It's highly unlikely that the show cut a bit that mildly mocked the President (while simultaneously highlighting one of his greatest achievements) for political purposes. Yet, Mitt Romney shouldn't expect to be the subject of any flattering sketches in the coming months.
More:
Will Ferrell To Host 'SNL' On May 12
The 6 Best 'SNL' Cast Reunions Ever
Will Forte Gets New Show: 'SNL' Alums Take Over TV