Is 'SNL' Facing a Funny Lady Shortage?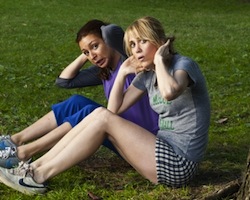 Sofia Vergara won't be the only woman making her Saturday Night Live debut on April 7. Deadline reports that Kate McKinnon of the Upright Citizen's Brigade will appear in the episode, and it's possible we'll be seeing a few more female faces in studio 8H in the coming weeks. Kristen Wiig's contract is up at the end of the season, which means the show is poised to lose it's main female star (or rather, biggest star, period) — and Lorne Michaels has started searching for a woman who can fill her shoes.
Of course, there are plenty of other women on SNL right now, but despite the fact that some have been on the show for several seasons, they've failed to become household names. Even if viewers recognize the faces of Abby Elliott, Nasim Pedrad, and Vanessa Bayer, their impersonations of Kim Kardashian, Angelina Jolie, and Miley Cyrus haven't made a cultural impact. If anyone's still talking about a lady-helmed SNL skit when you get to work on Monday, it probably features one of Wiig's characters, such as Gilly, the Target Lady, Suze Orman, Kathie Lee Gifford, or Congresswoman Michele Bachmann, just to name a few.
SNL's dearth of female talent seems even more pronounced because the show is coming off an unprecedented 15-year period of strong female performers. Cheri Oteri, Ana Gasteyer, and Molly Shannon joined the cast in 1995 and 1996 and went on to create some of the program's most unforgettable characters, including the NPR Ladies, half of the Spartan Cheerleaders, and Mary Katherine Ghallagher. (They're also remembered for spot-on impressions of Martha Stewart, Monica Lewinsky, and Judge Judy.) Just as these were retiring from SNL in the early 2000s, the show entered a golden age for female performers. Tina Fey was named SNL's first female head writer and became a Weekend Update anchor, then unleashed a Sarah Palin impression so good that some have wondered if it influenced the 2008 election. Amy Poehler created several memorable characters, and joined Fey at the Weekend Update desk and in political sketches as Hillary Clinton. During this time Rachel Dratch was part of some of the show's best-loved skits, including the Lovers, Denise and Scully, and Debbie Downer. Plus, Maya Rudolph could morph into nearly any female celebrity, including Donatella Versace, Whitney Houston, Oprah Winfrey.
In the mid-2000s, these SNL heavyweights left the show and went on to find success in projects like Baby Mama, 30 Rock, and Parks and Recreation. This left only Rudolph's Bridesmaids co-star Kristen Wiig to take up the mantle of TV's funniest lady. Thankfully, Wiig has suggested that she'd like to do a few more seasons, saying, "I love the cast … We're like Melrose Place without the murder." However, her film career is taking off with roles in Friends With Kids and Imogene, and it's unlikely that she'll stay for long. That means Lorne Michaels has the unenviable task of finding a woman who can both impersonate female cultural figures like Taylor Swift, and create original characters that can make us laugh with just a twitch of their baby hands.