Is The 'Hell On Wheels' Renewal On Hold? — UPDATE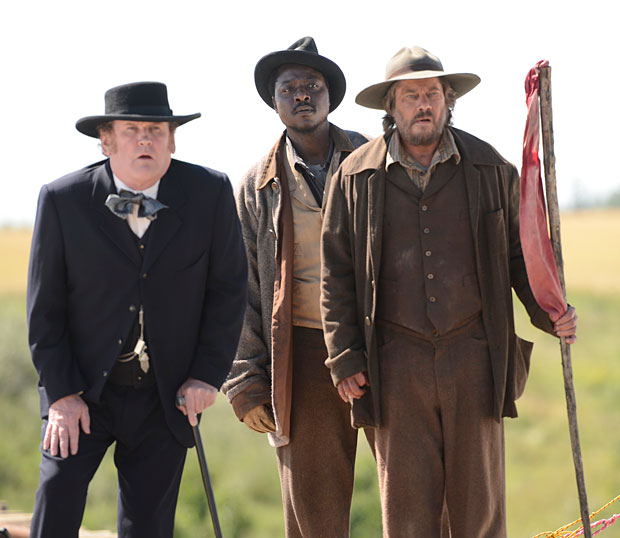 There's drama brewing on and off the screen at AMC's Hell On Wheels. According to an official statements, after the ye olde west-centric show got itself a 10-episode renewal for its third season, showrunning/executive producer John Shiban decided that he would no longer continue his duties on the show.
Shiban released his own statement: "I'm very proud of our work on Hell On Wheels and was thrilled to hear the show would have a Season Three. I have since made the difficult decision that the time has come for me to leave. I care deeply about the series and will do whatever I can to aid in the transition to ensure the continued success of the show. I truly value all the time I have spent with this wonderful group of very talented people."
In response, AMC released a statement of their own: "John Shiban has informed AMC, Entertainment One and Endemol that while he was fully on board when the network informed him about their intent to pick-up Hell on Wheels, he has since made the personal decision that he will be unable to return as showrunner. He has asked the production partners to seek a replacement showrunner. Like all of our shows, network pick-ups are always conditioned on an approved showrunner. We are confident that eOne and Endemol will satisfy that obligation in the near future."
With this revelation, the show's future is now being called into question—or at least put on hold until a new showrunner is announced. It was previously noted that creators/executive producers Joe Gayton and Tony Gayton would leave their daily show duties, but potentially stay on as consultants. With the additional, unforeseen loss of Shiban, though, it remains to be seen who will be able to tame this wild, wild west. Who knew building the Union Pacific Railroad would be easier than creating a show about it?
This is not AMC's first time at the show-shuffle rodeo. The Walking Dead's Frank Darabont left the show in Season 2, while Rubicon creator Jason Horwitch exited in the midst of production on that show's first and only season. Before Hell On Wheels, Shiban previously worked as a consulting producer on one of AMC's other hit shows, Breaking Bad.
[Photo Credit: Chris Large/AMC]
Follow Alicia on Twitter @alicialutes
More:
Hell Will Be Raised for a Third Season on 'Hell On Wheels'
FX Clears The Haze: 'Wilfred' Renewed For Season 3
'Homeland' Renewed for a Third Season
MTV's 'Teen Mom 3' Cast Revealed
(Celebuzz)