Is 'The Playboy Club' Too Sexy for Network TV?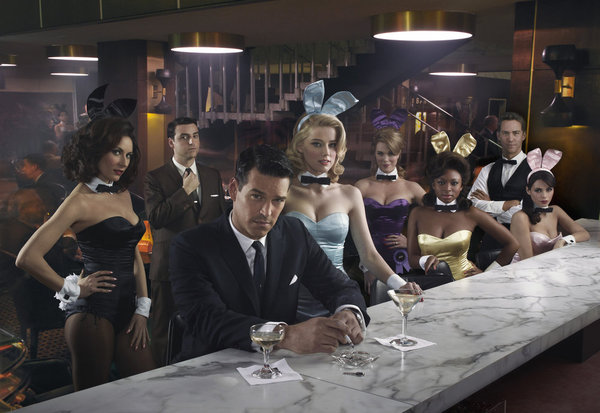 Modern television is a bit of a sexpot. Sure, it's taken a while for sexually suggestive and explicit content to trickle from the freewheeling shows on HBO and Showtime into the major network landscape, but with the introduction of NBC's The Playboy Club into a prominent Monday night slot reserved for big budget dramas like Hawaii Five-0 and newbie Terra Nova, it seems that we may be entering a new, freer era. But that freedom comes with a caveat in the form of conservative protest, begging the question: is network television really ready for sex?
The 1960s-set series in question centers on a young girl named Maureen (Amber Heard) who hails from some small Midwestern town and moves to the big city, Chicago, where she lands a coveted job as a Playboy bunny at the first-ever location of The Playboy Club, a Hugh Hefner-owned chain that, in more recent years, has become The Hard Rock Cafe of gentlemen's clubs. There she meets the other bunnies including the queen bunny, Carol Lynne (Laura Benanti), as well as the club's most magnetic member, Nick Dalton (Eddie Cibrian). It isn't long before she takes the floor as the "living, breathing fantasy that is the Playboy bunny" and gets a little too much attention from one of the club's more prominent keyholders. Everything – from her first major conflict with said keyholder, to bunnies constantly fending off men who see the club as a brothel, to the skimpy costumes and nightgown parties at Hef's mansion, to the entire concept of the club and the series itself – is dripping with sex. It may not be graphic sex, like the HBO-only long-awaited consummation of Sookie and Eric's lust on True Blood, but it's still network television. There are FCC rules to comply with. The fact of the matter is that the series may garner a bit of attention by borrowing Mad Mennian elements for its 60s setting, but let's be frank: sex and Playboy's salacious legacy generate a majority portion of its appeal.
It's that appeal that landed the series in hot water long before its promos even hit the small screen. First, the Salt Lake City NBC affiliate refused to air the series on grounds that it went against their morals and next, acclaimed writer and activist, Gloria Steinem, called for a boycott of the series since it's based on the string of clubs she once cried out against. Finally, the Parents Television Council requested that NBC remove the buzzy series from its lineup. Yet somehow, it seems that these negative outcries only serve to bolster television audiences' curiosity; we're dying to see just how sexy this show really is. The Playboy Club was not pulled from NBC's lineup and it's still set to premiere Monday, Sept. 19 at 10 p.m. on NBC, though it's probably a safe bet that Steinem and the members of the PTC won't be tuning in.
This unfriendly reaction isn't a novel one. Network television has never been ready for any level of unfamiliar sexuality. There hasn't been a single moment in the last 20 years of television, let alone in the decades of television history, without at least one group of people crying out against the excess of sexualized content on the boob tube. Every time we step over an untouched boundary on the small screen, someone, somewhere protests. From the first time a couple shared a bed on television on The Mary Kay and Johnny Show in 1947, to Barbara Eden's bikini-genie top on the 60s hit sitcom I Dream of Jeannie, to more recent issues like Gossip Girl's controversial "OMFG" ad campaign to Glee's racy photo shoots and frank discussions of teenage sexuality, sex on TV always has the potential to set off sparks. But it's all part of the process. It's a symptom of society's push to create more openness towards sexuality and the subsequent uproar is practically a television tradition.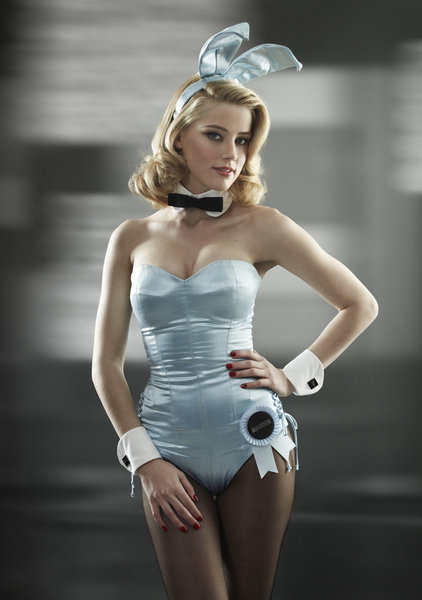 So how does NBC's potential flagship series fit into this tradition? Easily. While teen series still incur the greatest wrath from angry parents and fans of more conservative content, it seems that shows branded and marketed towards adults receive a little more leeway. Maybe they can thank NYPD Blue and Officer Andy Sipowitz' bare derriere for carrying the brunt of the controversy, but the truth is we've seen plenty of highly sexual content on slews of not just pay-network series, but major network series as well. Grey's Anatomy hooked us with non-stop hospital room hook ups; Buffy the Vampire Slayer treated us to house-busting (and even dumpster-adjacent) angry sex between our heroine and an aggressive vampire; Desperate Housewives has delivered neighborhood dominatrices and wealthy housewives sleeping with teenage neighbors; Lost showed us what it would look like if two people worked out their sexual frustrations in a giant bear cage; and even The Good Wife waves around its heroine's extramarital affair like a trophy. So why is everyone picking on The Playboy Club? It's certainly not a member of the teen-angling 90210, Gossip Girl, Vampire Diaries set.
The argument seems to be wrapped up in the fact that Playboy magazine is technically part of the pornography industry. Which, at face value is an understandably incendiary notion, but that term, which enjoys a rather broad definition these days (you know, "I know it when I see it") also lends a level of filth to the series that simply isn't there. The women of the series aren't prostituting themselves or making sex tapes, they're wearing tiny outfits and getting into a bit of old fashioned Chicago-style trouble – some of which is more dangerous than sexual. The bunnies may be trotting around in itty-bitty outfits and playing on men's depraved desires, but isn't that the same thing we see yearly on The Victoria's Secret Fashion Show or the Miss Universe Pageant? (Don't fool yourself — it is.)
NBC's The Playboy Club is inherently sexy and sexual, but "too sexy" for network television it is not. Implied sexual content, network TV and mature themes have long been a staple of post-10 p.m. programming and the core networks are not only ready for it, they're banking on it.