Is Zooey Deschanel Behind The Decline of 'New Girl?'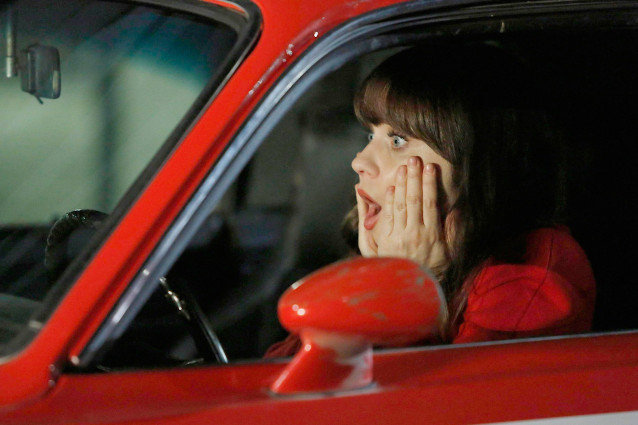 FOX Broadcasting Co.
New Girl has problems.
There's no denying the sitcom has issues. Its first season was critically acclaimed (and quite fun), but it's all been downhill from there. Season 2 skewed mediocre, and season 3? My heart broke a little bit when I watched that first season premiere wherein Jess and Nick run away to Mexico (really? Really?) Let's just say it has not been smooth sailing. Season 3 thus far has been disjointed, inconsistent, and largely unfunny – it's like it's become a bad parody of its original self.
And I think one of the main culprits is Zooey Deschanel herself.
Sure, writing plays a large role in the show's decline.   But I would argue that Deschanel just isn't up to the challenge of carrying a sitcom. Sure, she's had her good moments, but after basically exhausting her wheelhouse of talent? It's become harder and harder to watch.
Think back to New Girl's earlier episodes: sure, Season 1 was generally its strongest, but those first few episodes were rough. And when did things start to improve? When they decided to make the show more of an ensemble-based comedy, rather than just a star vehicle for Ms. Deschanel. But as Nick and Jess have finally gotten together, Deschanel has been pushed front and center more than ever before.
I'm not saying Zooey Deschanel isn't very good at doing what she does. She is. The problem? The parameters of what she can do are quite limited, especially for someone headlining a sitcom that many hoped would be the millennial version of Friends. She just doesn't have the comedic chops, nor the depth of acting – a fact that becomes more and more clear as the series progresses. Her zany, goofy brand of humor is only funny to a point, and she's consistently outperformed by her castmates – I'd say all of them are funnier than her, even those that bear the ball-and-chain of a character that remains largely undefined after two and a half seasons.
And just to be clear, I'm not criticizing the usual suspects: her "adorkable" style or ultra-feminine girlie-ness. In fact, in the interest of full disclosure, I'm far more twee than I should care to admit, and follow a blog entitled WWZDW (What Would Zooey Deschanel Wear?). No, I respect her personal style and attitude. But is she a compelling hub for a sitcom?
Signs point to no.