'It's Always Sunny in Philadelphia' Returns For Season 8 Tonight! Meeeee-ow!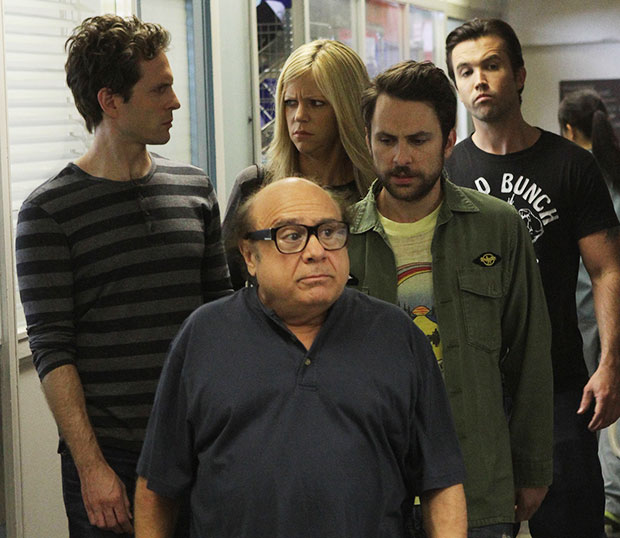 Over the next few months, we'll see new series soar, old series sour, and so much Jersey Shore madness, we'll want to shower. Let's face it: The Fall TV season is intimidating. With dozens of new and returning shows hitting our small screens, we know we have some big choices to make. So, to help you determine what to watch, we're digging deep into the most notable series premiering this season. Where did each show leave off? Where is it headed? And who should you watch it with? Today, we're checking out the return of FX's demented cult hit It's Always Sunny in Philadelphia. 
Premiere Date: Thursday, Oct. 11 at 10 PM ET on FX
Number of Seasons: The cult favorite is entering its eighth gloriously deranged season. 
Cast:
Glenn Howerton
, one of the show's co-creators, plays the leader of the gang, Dennis. (Or, at least, that's what he'd want to believe.) The unbearably narcissistic sociopath spends his miserable days with his hopeless, bird-like twin sister Sweet Dee, played by
Kaitlin Olson
; their shady, shameless father Frank, played by
Danny DeVito
, and his dim-witted best pals, the machismo doofus Mac and the disturbed, anxious, illiterate Charlie, played, respectively by the series' other co-creators and executive producers 
Rob McElhenney
(Olson's real-life husband) and
Charlie Day
. 
Synopsis: Five of the worst people to ever exist run a dive bar together in Philadelphia called Paddy's Pub and do, say, and think about the most despicable, strange, shocking, and unbelievably hilarious things you can possibly imagine. This show is awesome. 
Where We Left Off Last Season: After a season full of wacky misadventures, including Fat Mac, a more horrific trip to the Jersey Shore than Jersey Shore, and an ethically questionable child beauty pageant (an oxymoron, I know), the gang wound up in the worst place of all: their high school reunion. Joke was on their mean classmates though, because the musically-inclined posse put on one hell of a show for them. 
What Might Happen This Season
: More shenanigans and mishaps that will make you, and your soul, want to take a shower immediately after watching. And, hopefully, some more
Haley Joel Osment
. 
You'll Like It If: You're a master of karate and friendship for everyone. 
You Won't Like It If: You're easily offended by any of the following topics: abortion, the mentally handicapped, crack addiction, molestation, cancer, death, poverty, cannibalism, pooping the bed, and much, much more. 
Emmy Love:
 Unforgivably, none. Sure, the show likely horrifies older Emmy voters but that shouldn't take away from the brilliant performances from the immensely talented cast. After all, only a group of actors this good could get you to tune in, week in and week out to watch a show about about depraved lunatics and get you to
actually like
 them. While the whole
Sunny
cast has their own strengths (not to mention the fact that DeVito is television royalty), Day has emerged as a comedy breakout star thanks to his manic performance as the gang's arguably most likable character. The guy deserves some recognition from Emmy voters, too. Additionally, Olson is one of the most gifted comedienne's on television — she has a knack for physical comedy and holds her own in a boy's club. She's long overdue for
Emmy love
. 
Ratings: Thanks to its solid, devoted fan base, Sunny is one of the most-watched shows on cable. Last year's Season 7 premiere brought in 2.3 million viewers, the series' second highest rated premiere. Sunny steadily gained viewers year after year thanks to strong word of mouth and availability to watch on Netflix. 
Key Phrases: "I will eat your babies, bitch!" "Dayman! Ahhh-ahhhhh!", "Wildcard, bitches!", "Flip, flip, flip-adelphia!", "You think a pirate lives in there?"
Fan Favorite Characters: The (relatively) harmless Charlie seemed to hold a special place in the hearts of Sunny fans from the start, but he all but sealed the deal as fan favorite with the inspired, adorable, infinitely rewatchable "Kitten Mittons."
Relevant YouTube Clip: Because cat videos never get old and neither does this, I present to you, the aforementioned "Kitten Mittons." Meeee-ow.
Inspired Halloween Costume: If you're rolling solo and want to attend your Halloween incognito you can always go as Green Man, which has become a costume phenomenon in and of itself, but if you do a group ensemble just dress as the cast of the greatest musical in history: The Nightman Cometh. 
What To Wear While You're Watching Sunny: Nothing but a d**k towel. 
Make This It's Always Sunny-Inspired Meal:
Rum ham
! Come back rum ham!
Not That: Human meat. 
Who to Watch it With: Pepe Silvia. 
Who Not to Watch It With: Your parents. Or Rickety Cricket. 
If You Like This, You'll Love: Marathoning and quoting South Park, Workaholics, Seinfeld, Arrested Development, Eastbound and Down.
[Photo credit: FX] 
More: 
Meet Nashville, Y'all: Country's Strong With Connie Britton and Hayden Panettiere