'It's Always Sunny' Will Likely Have 10th Season, But Fewer Episodes Than 'Anger Management'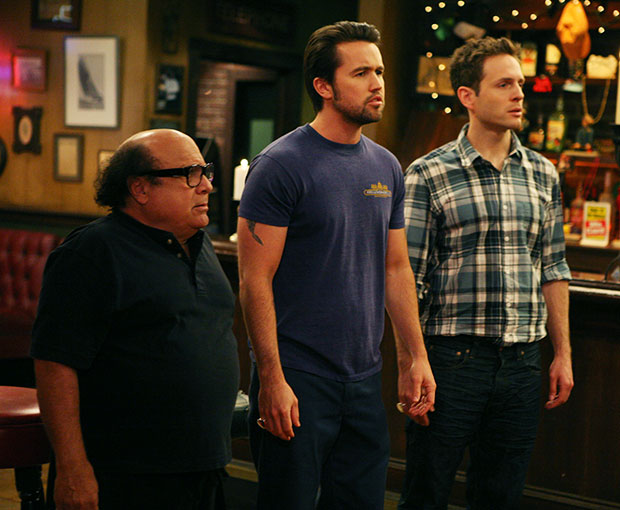 Seems FX's little comedy that could(n't be more hilariously offensive) will continue to truck along. During FX's TCA panel, the network's president, John Landgraf, told reporters It's Always Sunny in Philadelphia has "a high likelihood" of returning for a 10th season. "Whether it goes beyond that depends on whether the people who created the show want to go and whether the audience still wants to watch. But there will definitely be one more year, probably two."The news is not surprising for any fan of the cult comedy — which stars Danny DeVito, Charlie Day, Glenn Howerton, Rob McElhenney, and Kaitlin Olson as five deranged bar owners — but the timing of the announcement is unexpected. Sunny finished airing its eighth season in December, and won't return for a ninth until fall 2013.
Still, it's cause for a celebration worthy of rum ham for Sunny's dedicated fanbase — even if they'll have to share Thursday night with Charlie Sheen, whose Anger Management will boast 45 episodes a year, according to Landgraf. (Sunny, on the other hand, airs only a dozen episodes per season.) Good thing there's plenty of ham to go around.
[Image Credit: FX]
More:
It's Always Sunny React: This Is How We Do It
2012 Emmy Longshots: Kaitlin Olson, the (Aluminum) Monster We Root For
It's Always Sunny Season 8 Promo: Haley Joel Osment Fights (As Mac) For a Comeback

Megan Fox's 12 Hottest Moments (Moviefone)

Ryan Gosling's 'Airbrushed' Abs: Plus 19 More Reasons We Love the Actor