It Will Cost You $10 Million to Live in Carrie Bradshaw's House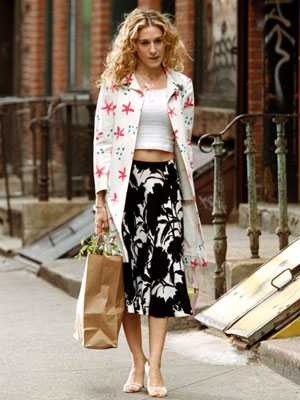 Every day in New York another hundred people just get off of the train (to quote Steven Sondheim) and try to make it in the Big Apple, many of them with dreams of living the luxe Carrie Bradshaw lifestyle they've seen on Sex and the City DVDs and the watered-down TBS reruns. Well, they better have a ton of money saved up (or very rich parents) because the townhouse where Carrie lived just sold for almost $10 million.
The five-bedroom townhouse at 64 Perry St. in Manhattan's West Village was a stand-in for Carrie's Upper East Side apartment where she did a lot of her smoking and only a fraction of her pining for Mr. Big. It just sold to an undisclosed buyer for $9.85 million, $200,000 more than the $9.65 million asking price. The crazy thing is that the house sold for $9 million in November of 2011, so it has gone up in value $1 million bucks in less than six months. And that comes with the downside of knowing that busloads of Midwesterners will be rolling by on clicking and cooing while snapping pictures on the Sex and the City tour at least once a weekend.
So, in terms of Sex and the City coinage, how much is this piece of real estate worth?
—3,283,334 Magnolia cupcakes
—2,462,500 words written for Vogue (based on Carrie's $4 per word freelance rate)
—197,197 Carrie nameplate necklaces
—10,423 pairs of Manolo Blanik strappy sandals
—383 Birkin handbags
The Birkins might make a better investment.
Follow Brian Moylan on Twitter @BrianJMoylan
More:
'Sex and the City' Townhouse for Sale: $9.65 Million!
'Sex & The City' Is a Phenomenon with $2.5M at Midnight Preview Screenings Alone
CW Officially Nabs 'Sex and The City' Prequel, 'The Carrie Diaries'