J.J. Abrams, Jonah Nolan Team For New Series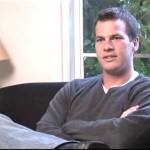 In the world of genre entertainment, two names are perhaps more relevant than most these days: J.J. Abrams and Christopher Nolan. Combined, they've made some of the milestones of film and television over the last few years, from Lost and The Dark Knight to Star Trek and Inception. Somewhat less notable is Nolan's younger brother Jonah, who has managed to influence the work of his sibling by writing the short story from which his breakthrough film Memento was based, as well as collaborating with him on the screenplay's for The Prestige and The Dark Knight. Now, Jonah is looking to team up with that other guru of geekiness Abrams.
Entertainment Weekly reports that Abrams is shopping an untitled crime-thriller series created by Nolan to the networks who are hot for his product (the prolific producer-writer-director has Undercovers set up at NBC, Fringe at Fox and is also developing an Alcatraz-set drama series written by Lost alum Elizabeth Sarnoff). True to form, there are literally no details regarding the focus of the project, but the trade notes that one network is already going gaga over the pitch. More will soon follow, so expect to hear more on this story throughout the fall.
Talk about a TV dream team. Though he has no experience on the small-screen, Nolan's ideas are held in high regard by the public and within the industry. His work has resulted in some of the best films of the past decade and though Christopher gets most of the kudos for those movies, producers and directors aren't overlooking his talent: McG and Warner Bros. hired him as a script doctor on 2009's Terminator Salvation while Steven Spielberg has long been developing Interstellar, a cerebral science fiction film that he wrote. To complement Jonah's lack of network knowledge, Abrams brings to the table a reputation for exciting and engaging programs that will surely help the project get greenlit. If this one gets going, mark my words: I'll be parked in front of my plasma on premiere night.
Source: Entertainment Weekly