Jack Coleman Teases Tonight's 'Dance of Death' on Castle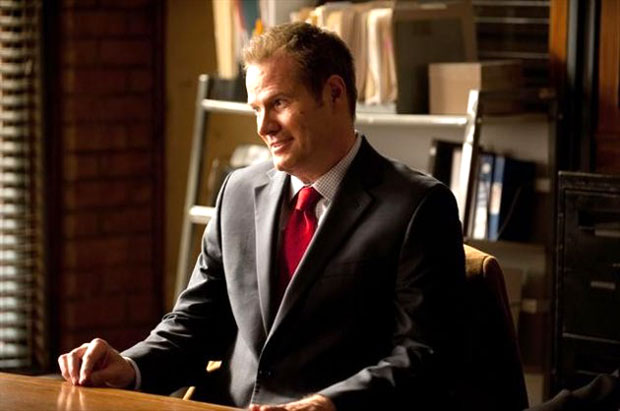 He's ba-ack! TV fans know Jack Coleman as many things: Angela's Oscar-loving husband on The Office, Caroline Forbes' late father on The Vampire Diaries — and once upon a time Coleman donned the alter ego of Noah Bennet on Heroes. But Castle fans best know this versatile actor as Senator William Bracken, the despicable man responsible for the murder of Beckett's mother. Tonight Coleman returns to reprise his role as the smarmy senator in the all-new episode "Recoil," and fans should prepare for one dangerously dark hour.
RELATED: TV Tidbits: 'Castle' Stages Shiny 'Firefly' Reunion, '30 Rock' Nears the End
So what's the premise for Bracken's dramatic reappearance? "There is a lured murder of a young girl that leads Beckett directly to Bracken, and she thinks that this is her chance to put him away once and for all, but the circumstances turn out to be much more complicated," Coleman tells Hollywood.com. "[Beckett] is now stuck with this burning desire to bring this guy down and is not quite sure how she should do it, and how far she's willing to go to do it. The story is sort of the morale quandary, and whether or not she's willing to go to these incredible lengths to do this."
Coleman explains that the dynamics between Bracken and Beckett are dangerously heightened in the wake of tonight's murder. "The great thing is that these characters, Bracken and Beckett, are locked into this sort of dance of death. The power is constantly shifting back and forth between them." Don't take him too literally Castle-lovers. We double-checked and unfortunately they don't actually dance in this episode.
RELATED: One-on-One: Tamala Jones of 'Castle' Dishes on The Future of Castle and Beckett
But brace yourselves, Caskett fans! The actor warns that Becket's moral dilemma puts a heavy strain on our favorite crime-fighting couple's relationship. "Castle represents light and love, and Bracken represents death and darkness," he says. "She's caught in between these two worlds, and being pulled in both directions. It takes a toll on her relationship, and I think it takes a toll on her sanity. The great thing about this [role] is it really has an impact on the stars of the show." Nicely done, ABC. As if Bracken wasn't hated enough, now the Caskett shippers are going to tear him apart!
Of all the amazing television characters the actor has brought to life, Coleman says that persona of Bracken has been especially challenging. "When you're coming on and you're playing a character that is so pivotal in the mythology of the story, there's a bit of pressure to make it impactful," he says. "[In] the world that Bracken now lives in, everyone is a potential threat because he's a very ambitious guy. He's got a tremendous amount of skeletons — some are real — and he's just trying to keep all his ducks in a row, and keep everybody from bringing this whole thing down on him. Beckett is certainly the most visceral threat to him, and the one that he has to deal with first."
RELATED: 'Castle' Finale: Beckett Reveals Her True Feelings To Castle — Finally!
Coleman teases that the final five minutes of tonight's episode are definitely not something you'll want to miss. "I really like our last scene together," he says."[It is] twisted and unexpected. I think it leaves Beckett with something to chew on, and the audience with something to chew on as well."
Make sure to tune into Castle tonight at 10 PM on ABC.
Are you eager for Bracken's return? Anxious of the strain this could put on Castle and Beckett? Share your speculations in the comments below!
Follow Leanne on Twitter @LeanneAguilera
[Photo Credit: ABC]
---
You Might Also Like:

Biden? Ford? Surprisingly Hot Young Pics of Politicians

Who Wore This Crazy Hat?

Stars Who Changed Their Look After Love