Jake Harper Could Disappear on 'Two and a Half Men.' What Other TV Kids Went Missing?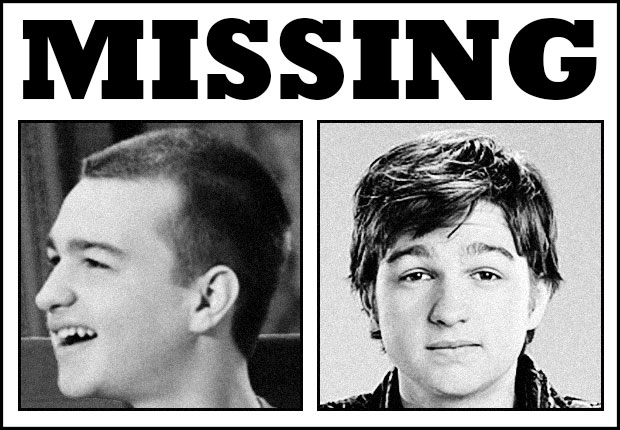 Angus T. Jones is going to honor his contract on Two and a Half Men, but that only means Jake Harper is guaranteed to finish out this season. What happens next fall?
Rumors are running rampant that WB TV isn't planning on renewing the young actor's contract after he urged viewers not to watch the series — which he labeled "filth" — in a web video he shot explaining his status as a born-again Christian. CBS would not comment on the status of Jones' contract and the WB and Jones' reps had not returned requests for comment at the time of publication, but it doesn't take a genius to figure out that Jones' comments could spell trouble for his character. After all, this is the series that killed off its biggest character when Charlie Sheen went off the rails. Jake's already in the army — what's keeping the writers from reducing his character to a series of letters from abroad?
Of course, if that is Jake's fate, he'll be in good company. We've rustled up more than a few of TV's mysteriously (and often suddenly) missing children characters, and predicted Jake's future:
As seen on Two and a Half Men
Name: Jacob "Jake" David Harper 
Hometown: Malibu, California
Hair: Brown
Eyes: Brown
Defining features: Apathetic expression, often confused and/or eating, Army buzzcut
(Projected) Last Seen: In one of the final episodes of Season 10 of Two and a Half Men, Jake will come home for a brief visit and raid the fridge. Watch television and let every joke fly over his head. Then he'll go back to the Army and we'll never hear from him again.
(Projected) Famous Last Words: "What?"
(Projected) Possible Whereabouts: Much like his Uncle Charlie before him, Jake will go off to some unseen conclusion meant to have taken place during the summer hiatus. Knowing the show's writers, it will be something terrible, like going A.W.O.L. and traipsing around the Middle East as some sort of vagabond. All bets are on his constant status as butt of the joke continuing through poorly written letters to Alan.
Next: