Late Night Last Night: James Franco Owes His Grandma Crack Money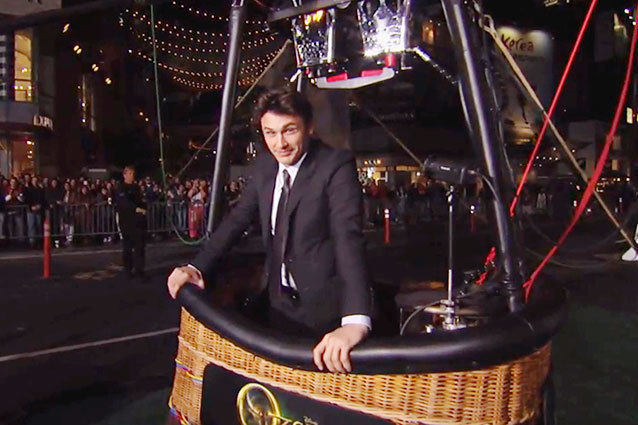 After conquering the worlds of acting, directing, prose, poetry, academia, racecars, porn, and women's shoes, James Franco is now venturing into the realm of archaic air travel. On Wednesday night, Franco paid a visit to Jimmy Kimmel Live!, making his entrance to the Los Angeles set via the transport of hot air balloon — in honor of his upcoming film, Oz the Great and Powerful.
RELATED: James Franco Named Daytona 500 Grand Marshall
But his unusual mode of transit was not the only gem Franco brought to Kimmel. The 34-year-old Sam Raimi fixture invited a special guest to accompany him to the talk show: his grandmother, who stole the show by regaling Jimmy with her aspirations to play a munchkin in her ambitious progeny's latest picture. The two have worked together before — Grandma Franco once played a crack den matron who was none too pleased with young James' lateness in his drug payments.
RELATED: James Franco Had a Lot of Sex at Sundance
Watch the video below, and catch Oz in theaters Mar. 8.
Follow Michael Arbeiter on Twitter @MichaelArbeiter
[Photo Credit: ABC]