Jeff Daniels Is Mad As Hell In 'The Newsroom' Trailer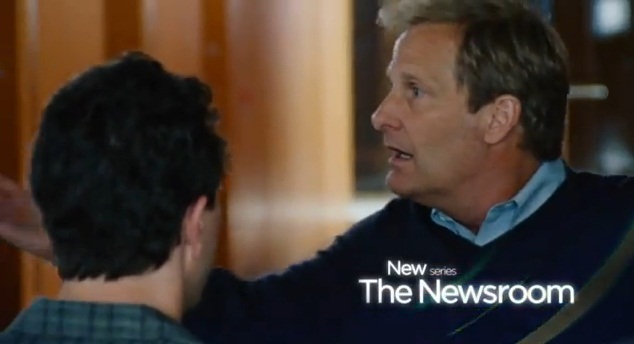 Who could have guessed that one of the biggest thrills from HBO's programming last night would come in the moments before the long-anticipated season 2 premiere of Game of Thrones?
Alas, before viewers were transported back to Westeros, they got their first look at the upcoming Aaron Sorkin-penned drama The Newsroom. With Jeff Daniels leading an impressive ensemble (including Emily Mortimer, Sam Waterston, and Dev Patel) starring as Will McAvoy, a once-reserved cable news broadcaster (or, as he's described in a most delicious Sorkinism, "the Jay Leno of news anchors") whose public meltdown goes viral and changes the course of his network, The Newsroom looks like it has the makings of a new Sorkin classic and The First Great Drama of 2012.
Watch the jaw-dropping, bitingly funny, and politically charged ("I'm a registered Republican, the only reason I seem liberal is because I believe that hurricanes are caused by high barometric pressure and not gay marriage") first trailer for The Newsroom here:
Will you be tuning into The Newsroom? Between this, Veep, and Girls does HBO have the most exciting new line-up for the 2012 television season? Should Jeff Daniels make space on his mantle for an Emmy now?
More:
This Just In: Aaron Sorkin's 'The Newsroom'
Natalie Morales Joins 'The Newsroom'