Jennifer Esposito Joins E! with Bakery Show — 5 Reasons She's Kardashian Kaliber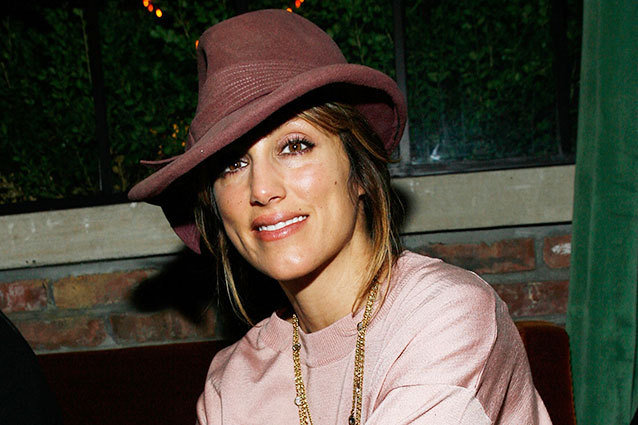 From the seedlings of An American Family and Andy Warhol's Chelsea Girls, the diverse flora of reality television has sprouted. Today, many of the genre's greats manifest on the shoulders of one of our country's most tried and true devotions: cupcakes. Audiences are welcomed into the elegant realm of baked goods, learning the turns of the industry and picking up some tips for writing in cursive with frosting guns. But of course, not all reality shows are so high in brow. We're also quite familiar with the programs dediacted to the every elaborate purchase, high-pitched complaint, or cocktail tossing of Hollywood socialites. And somewhere in between these two extremes, we might find Jennifer Esposito. Deadline reports that the film and television actress is working on developing a pilot  centered on the function of and story behind her New York bakery, Jennifer's Way, which caters specifially to customers seeking gluten free products (as Esposito herself suffers from Celiac disease). Sounds classy enough, right? Noble, pristine, drama-free? Hold your horses — the show is set to air on E!.
And it's not as though Esposito will be at a loss for common ground with her new station colleagues. Though the Kardashian family is a hard act to live up to, the reality game newcomer (whose pilot was born from her appearance on the docu-series Playing with Fire) has a few tricks up her sleeve, beyond just healthy snack options, to help her assimilate quite nicely into the tabloid zoo that is the E! network. Her résumé includes…
A Short-Lived Celebrity Marriage
Combatting even the likes of Kim Kardashian and Kris Humphries is the 4-month romance that bound ever so tenuously Esposito and former husband Bradley Cooper.
An Onset Controversy on a Network TV Drama
Esposito's name graced the headlines following a sudden dismissal from the CBS series Blue Bloods — the actress alleged to have collapsed on set as a result of her Celiac disease, going on to request a more lenient schedule to accomodate the requirements of her condition. When Esposito and producers could not reach an agreement regarding her availability, she left the program.
A Brief Stint as a Dancer on Club MTV
While there's nothing that inherently screams "trouble!" about this, it's one of those things that you retroactively nod knowingly about after hearing that some celebrity went off his or her hinges: "That guy was crazy! We should have known when he took that job as an MTV dancer…"
A Father Named Robert in the Margins of the Entertainment Industry
It worked for the Kardashians, didn't it? Esposito's dad Bob worked as a record producer before becoming a computer consultant on Wall Street.
A Childhood Home in Staten Island
Always a red flag. Don't pretend you don't know where I'm coming from, Tottenville…
Any other reasons Esposito will fit in just fine at E!? Chime in.
Follow Michael Arbeiter on Twitter @MichaelArbeiter
[Photo Credit: Mark Von Holden/WireImage]
---
You Might Also Like:


8 Male Stars With Tramp Stamps


Stars Who Have Lost Roles For Being Too Hot (Celebuzz)