Jennifer Esposito Talks 'Blue Bloods' Dismissal: 'They Illegally Stopped Paying'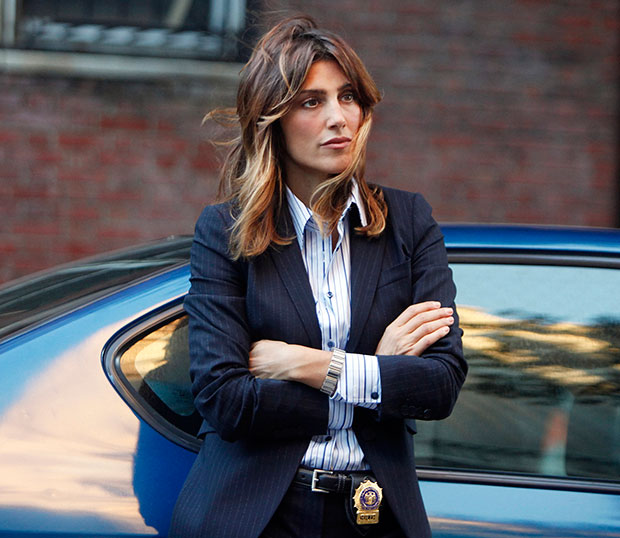 Jennifer Esposito might have had to bid farewell (at least temporarily) to her role on Blue Bloods, but she is at least stepping up her venue for complaining about these hardships. Last month, the star of the CBS series took to Twitter to emphasize her displeasure with the network for placing her on an indefinite "leave of absence" as result of her being deemed "unable to perform the demands of her role" following a diagnosis of Celiac Disease. Esposito accused CBS of implying that she was feigning illness and for prohibiting her from her position on the program despite her ability to perform. On Sunday, Esposito's outlet shifted from Twitter to Fox News, when she shared with FOX Files' Arthel Neville some more heated words about her dismissal from Blue Bloods:Last week, I believe, I was told I was on suspension, which meant I am still in contract, not being paid … they illegally stopped paying. And I am not able to work on any other TV show, on network. I can do a film or a Broadway or something on cable that doesn't go in the 10 o'clock time slot. So they kept me in my contract without pay. And yes, it's completely illegal. But they also knew that I didn't have the money or the means to sue them. I have been in the business for 20 years; there [have] been so many things of injustice that happen in this business. It's what you sign up for; it is what it is. This, though, is something that is not about me, I feel. This is about a disease that people don't understand. And what went on after, it makes me sick.Hollywood.com has reached out to CBS for response to Esposito's remarks.
[Photo Credit: CBS]
More:
Jennifer Esposito on 'Blue Bloods' Leave, Calls CBS 'Shameful'
'Dexter' Star Jennifer Carpenter Talks Series Finale: Will Deb Die?
'Last Resort' and '666 Park Avenue' Are Practically Canceled

American Music Awards 2012: The Complete Red Carpet Arrivals (PHOTOS)
(Celebuzz)

Justin Bieber, Selena Gomez Seen Together at American Music Awards After-Party
(Celebuzz)