Jennifer Lawrence and Jason Sudeikis In: Silverday Night Livenings Playbook! — VIDEO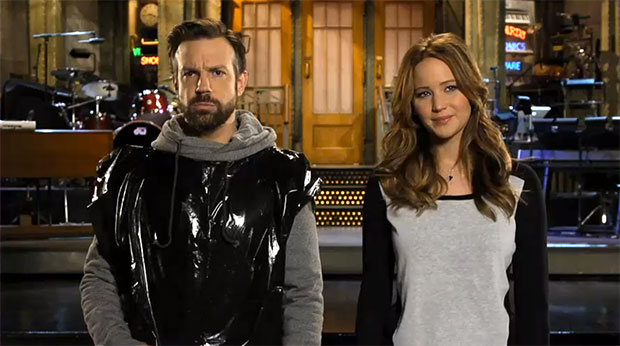 Following a Golden Globe victory for her starring role in Silver Linings Playbook, Jennifer Lawrence has been treated to another honor by NBC: the hosting of Saturday Night Live. The 22-year-old actress, one of this past year's greatest showbiz prospects, offers up the below new promo with SNL player Jason Sudeikis as a preview to the big night.
The clip has Lawrence parodying all the big events of 2012. First, she tackles her own Globes win, although her speech doesn't go quite as smoothly this time around. The next target: the David O. Russell film that earned her the award… but Sudeikis doesn't pull off a garbage bag sweatsuit as well as Bradley Cooper. Finally, of course, the ever popular Hunger Games, proving that Katniss Everdeen's archery abilities have not translated to the actress.
Check out the below video, and watch Lawrence take on SNL on Saturday, Jan. 19.
[Photo Credit: NBC]
More:
Late Night Last Night: Jennifer Lawrence — 'You Can't Offend Meryl Streep'
'Hunger Games: Catching Fire': Can Jennifer Lawrence Resist Finnick's 'Seductive Purr'? — PICS
You Don't Own Her: Jennifer Lawrence Channeled 'First Wives Club' In Her Acceptance Speech

Craziest Celebrity Swimsuits (Celebuzz)