Jennifer Lawrence on 'Saturday Night Live': Should We Expect a Meryl Sketch?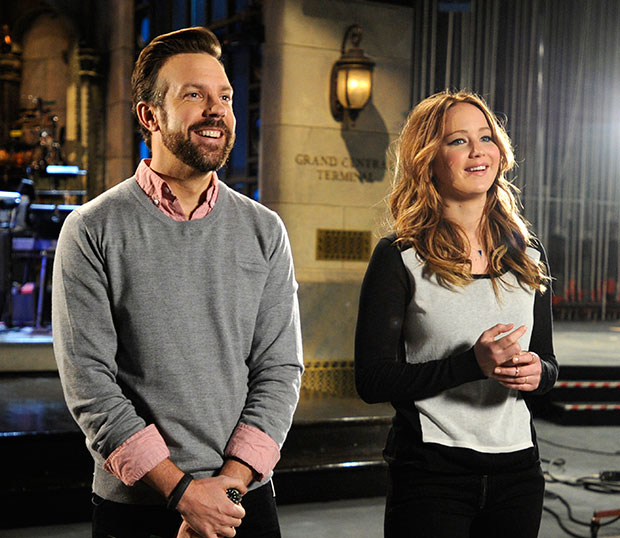 It's a safe bet Jennifer Lawrence will kill. And, no, we're not talking about her second trip to the Hunger Games in Catching Fire or her mishap with Saturday Night Live cast member Bobby Moynihan. No, it's nearly a sure thing that the charming Golden Globe winner will kill it while on Studio 8H's stage during her debut SNL hosting gig.
Not only because the rising star has proven this awards season that her self-effacing sense of humor is more enviable than her figure, but because, as her SNL promo (embedded below) proved, there's so much fodder. The Hunger Games, Silver Linings Playbook, the Golden Globes, the Oscars, the Meryl Streep fans who thought Lawrence was actually insulting the three-time Oscar winner — there's little doubt we're headed towards a cornucopia of comedy.
Will Lawrence — and musical guest The Lumineers — indeed kill it tonight? Talk about the episode below, and be sure to return Sunday for our full recap of Lawrence's SNL debut. That is, if she doesn't slay you first.
[Image Credit: NBC]
More:
Jennifer Lawrence and Jason Sudeikis In: Silverday Night Livenings Playbook! — VIDEO
'Hunger Games: Catching Fire': Can Jennifer Lawrence Resist Finnick's 'Seductive Purr'? — PICS
You Don't Own Her: Jennifer Lawrence Channeled 'First Wives Club' In Her Acceptance Speech

The Cutest Celebrity Kids! (Celebuzz)