Jennifer Lawrence on 'SNL': Did the Actress Hit a Comedic Bullseye?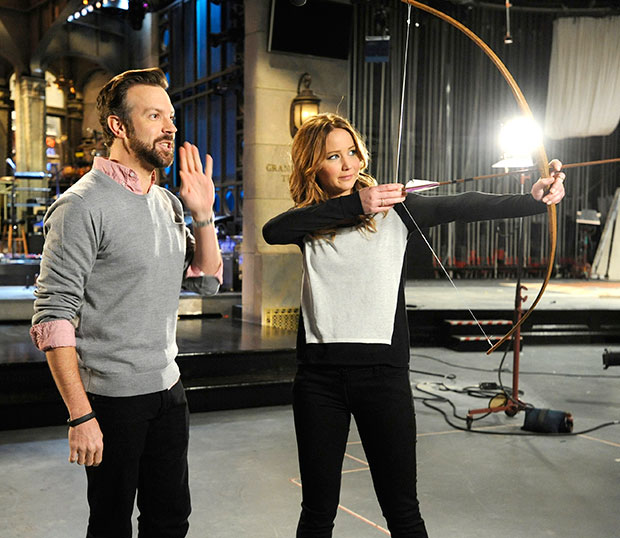 Silver Linings Playbook star Jennifer Lawrence is golden. Not only because she scored a Golden Globe win for her performance in the David O. Russell dramedy, but because she's quickly establishing herself as one of the most charming actresses this side of Emma Stone. And, with her debut appearance on Saturday Night Live, Lawrence continued to prove she could balance between genres. Drama, teen franchise, indie, sketch comedy —Lawrence's playbook is indeed golden.
Speaking of things golden, SNL's cold open centered on one of the most talked-about figures from Sunday's awards show: Jodie Foster, played by the increasingly valuable but criminally underused Kate McKinnon. While poking fun at the actress' quasi-coming-out speech, in which the actress paid tribute to "the voices of reason in my life: Robert Downey Jr. and Mel Gibson," the sketch hit its high mark, with McKinnon stealing the spotlight from Jason Sudeikis, as a far-from-contrite Lance Armstrong, and Bobby Moynihan, as a wide-eyed Manti Te'o.
And it turns out the Golden Globes gave SNL plenty of milage, with Lawrence's monologue centering on audience's misunderstanding of her acceptance speech. With some viewers believing Lawrence was slamming Meryl Streep — "I beat Meryl" was actually a First Wives Club reference — the actress continued the Oscar smack talk during her monologue, slamming Jessica Chastain ("More like, Jessica Chas-ain't-winning-no-Oscar-on-my-watch!") and even 9-year-old Quvenzhané Wallis. ("You think you can beat me? Whatchu talkin' bout, Wallis?") Though the one-liners (and Bill Hader's stoic Tommy Lee Jones) impressed, Lawrence's busy schedule seemed to hold her back during the monologue — if she were relying on the cue cards anymore, you could call her Lindsay Lohan.
Lawrence seemed to hit her stride during SNL's inevitable Hunger Games sketch, which still left a bit to be desired for fans of the dystopian teen franchise. Though Lawrence played along well — making fun of her height-challenged co-star, Josh Hutcherson as Peeta — the post-game press conference concept relied too much on the sketch's secondary characters (reporters that don't exist in the books) than the primary beloved stars. Though Jay Pharoah's question to Peeta — "Have you been using performance-reducing drugs?" — did get some appreciation from the Armstrong-overdosed audience.
The actress' journey on Saturday Night Live continued with a pre-taped Hobbit bit that would have been much funnier if The Onion hadn't already written it a month before. (Though who doesn't identify with frustration surrounding Peter Jackson's insistence on filming in "s**t-vision"?)
Still, in Studio 8H, it played better than the next sketch, which starred Lawrence as a bona fide nasty waitress in an Ed Debevics-esque restaurant. That said, anyone who ever frequented Debevics and was privy to their patented lame insults would appreciate a waitress with real sass — one that told diners, "You peaked in high school, and now you'll sleep with anyone who asked."
But before you insult any jokes from this week's Weekend Update, Moynihan would beat you to it. Playing recurring character second-hand newsman Anthony Crispino, even the SNL cast member had to scoff at his own rib that "they have to raise the Depp ceiling" after Johnny Depp outgrew his mansion. (Cue: Sad trombone.) Seth Meyers, however, made up for the grown-worthy appearance with a zinger about Ann Romney's rumored (and debunked) casting on Dancing With the Stars: "She's probably not a good fit for the show anyway, because I've heard of her."
The next sketch parodied another beloved reality show, Top Chef, but in a world where dogs were allowed to compete. Relying heavily on puns (Padma Leash Me, Tom Collie-Cio, and a Crocks-wearing Mario Barktali were stars of the sketch), the skit was one of those that seemed born out of exhausted writers' rooms at midnight. Still, Lawrence worked, well, like a dog to help the sketch translate, proving to be more committed than the most loyal of pups.
Her commitment to the material only continued in the next sketch, which took place in Taran Killam and Moynihan's recurring Shakopee, Minn., radio station. Though predictable, Lawrence's rapping intern — who couldn't even rhyme "issues" with "tissues" during a flu-themed verse — was sick enough to sell the sketch.
But not quite as sick as "Danielle," a sketch parodying sex-fueled fare you'd find while channel-surfing late-night French TV. One of those wonderful skits that's not as funny as it is strange, "Danielle" delighted if only because it was easy to imagine SNL's writers wondering if they could pull off something so ridiculous. So, did they? Hardly — at least not as much as the following sketch, centered on the correspondences between a Civil War-era woman and her brazen fiancé (the underused Tim Robinson) who constantly demanded "a tit pic or something."
The final sketch earned plenty of chuckles, but it's unfortunate that the night's funniest sketch occurred in the first 10 minutes, sans Lawrence. Poking fun at Starbucks' spelling-plagued employees, the commercial for the Starbucks Verismo proved the coffee maker will mistake your simple name for something ridiculous, and complain to its co-worker Verquonica when it gets your order wrong. The faux-commercial served as a shot of caffeine to the episode which could have used a jolt much later.
Still, Hunger Games star Lawrence was easy to digest in the comedy genre, helping elevate rusty, post-vacation writers' bits to laugh-out-loud status. And the experience in live TV should do Lawrence good — after all, she has to prepare for the moment she accepts Oscar gold in real time.
[Image Credit: NBC]
More:
Jennifer Lawrence and Jason Sudeikis In: Silverday Night Livenings Playbook! — VIDEO
You Don't Own Her: Jennifer Lawrence Channeled 'First Wives Club' In Her Acceptance Speech

Craziest Celebrity Swimsuits (Celebuzz)