Jennifer Love Hewitt's 'Client List' Renewed for Season 2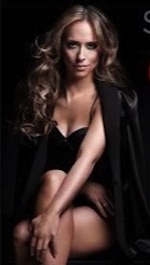 She spent six seasons as an orphan and five as a medium, but Jennifer Love Hewitt seems bent on reaching new milestones in her career as an "adult" masseuse. The Lifetime network confirms that Hewitt's new series, The Client List, has been renewed for a second season. And if her Twitter is any indication, the star couldn't possibly be happier.
Hewitt reported the news earlier today when she Tweeted, "I'm so excited right now I'm crying!!! The Client List just got picked up for season 2!!! Thank you lifetime! Thank you all for watching!!!" The network confirmed Hewitt's announcement later in the afternoon. Hewitt's message was followed immediately by a second Tweet, which reads, "So grateful!! So excited!!!! Aaaaahhhhh!!!!! Now that's a happy ending lol!!!! Congrats to my cast!!! Love you!!!!" Clearly, she's pretty invested in the project.
The Client List premiered on April 8, and has proven to be a surprisingly well-crafted drama. The story follows single mother Riley Parks (Hewitt), who gets involved in the sexual massage business in order to support her family financially. The series is based on the like-titled 2010 Lifetime movie, also starring Hewitt.
No word yet on exactly when the second season will begin, or what changes the show will undergo between seasons. The Client List airs Sundays at 10 PM ET/PT on Lifetime.
More:
Jennifer Love Hewitt Talks Client List: She'll Do Lingerie, But Not Nudity
Client List Ad Gives Jennifer Love Hewitt a Breast Reduction
The Client List: An Unexpectedly Guilt-Free Pleasure
[Twitter]